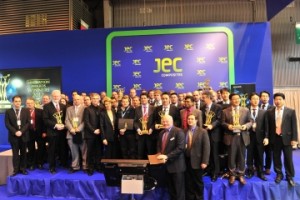 Southampton, UK, January 30, 2013: Bac2, the polymer materials company, has been selected as the winner of the materials category in the JEC Europe 2013 Innovation Awards for its CSR family of latent acid catalysts. The accolade will be presented on Tuesday, March 12th at the JEC Europe show in Paris.
Mike Stannard, Bac2's CEO, commented, "This is a particularly prestigious award because JEC is the largest composites industry organisation in Europe and is influential worldwide. Coming shortly after we received the Composites UK Innovation Award in November 2012 for CSR, it's further confirmation that this is a groundbreaking family of materials capable of transforming the productivity of many composites manufacturing processes. Equally important, it's enabling companies to significantly reduce their energy consumption and costs."
Using CSR catalysts, the storage life of pre-polymeric mixes used in SMC and BMC processes has been extended from minutes or hours to over 3 months. This simplifies materials handling, storage and transportation. In pultrusion, process efficiency gains of more 100% have been achieved, coupled with a 30 degrees C reduction in curing temperature. The latter dramatically reduces both manufacturing costs and CO2 emissions. CSR catalysts also enable the manufacture of inherently flame-retardant mouldings by enabling the production of stable phenolic and furan-based pre-polymeric mixes.
Bac2 supplies CSR catalysts to companies that manufacture wood products (MDF, particle board and plywood), abrasives and composite moulded products. The company's customers are in Europe, North and South America and Asia.