AXION Recycled Plastics Incorporation, a reprocessor of recycled plastic materials and a wholly owned subsidiary of AXION International Holdings, Inc, announced that it has commissioned an additional extrusion line to increase its manufacturing capacity.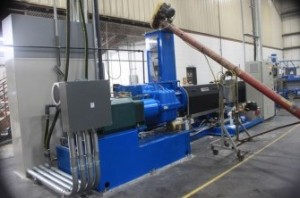 The newly commissioned equipment is a Davis Standard 6″ extruder, which began production on December 13. The installation of this extruder will add an additional 1,800,000lbs of reprocessed (pelletized recycled plastic resin) to the Company's monthly capacity. The machine is capable of processing post-consumer and post-industrial plastic.
"This is a great accomplishment for us to commission this extrusion line which will expand our capacity and capability to meet the increase in customer demands," comments AXION President and CEO Steve Silverman. "This was the first major project for our new company and it was great to see this completed on time and within budget. With the addition of this extruder, we now operate five extrusion lines across two facilities, allowing us to provide value added products to our customers."
AXION recently announced the signing of a three-year US$42,000,000 contract to provide high molecular weight (HMW) high density polyethylene (HDPE) to one of the largest thermoplastics companies in the US.
Source: http://www.adsalecprj.com/Publicity/MarketNews/lang-eng/article-67010266/Article.aspx