Players in Asia's PVC markets are divided over their outlooks on the market for December, according to ChemOrbis. Much of the division stems from estimates of the likely strength of demand as players predicting another month of poor demand during the low season are calling for decreases while players still hopeful about the prospects for India's PVC market are predicting slightly higher prices for the coming month. Players on both sides of the divide are in agreement that the month of December is not likely to witness major price swings.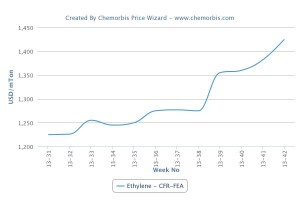 Sentiment in China was described as generally bearish as few players in that country are hopeful of seeing any real change in demand in the coming month. "We believe that new December prices will be announced with decreases as we are currently in the middle of the traditional winter slow season and prices in both the local market and the export market are on a downward trend.
Given the fact that producers are already operating with less than satisfactory margins, we think that the extent of the December declines will be limited," a trader based in Shanghai reported. A Chinese converter manufacturing PVC film commented, "We do not think that demand is strong enough to support any upward movement in prices and we are therefore hopeful of seeing some additional price relief next month. In addition, prices for domestic acetylene based PVC are declining and we think that this will put downward pressure on import prices."
December pricing ideas were a bit more mixed in India and Southeast Asia as some players held out hope that these countries, particularly India, might see some improvement in demand in the coming month. A PVC calendaring manufacturer in India predicted that producers would announce rollovers on their December prices, commenting that only certain sectors of India's economy are seeing improved demand after the recent Diwali holidays.
A Chinese producer reported that they expect to see higher prices to India for December as they remain optimistic about the demand outlook for India while adding that they anticipate seeing weaker prices to China and Southeast Asia as demand from these regions seems unlikely to revive. An international trader predicted that initial December prices would be announced with rollovers. "Buyers are trying to purchase at the November price levels, but are finding that these prices are no longer available and we believe that this might help generate a small upward movement in prices," the trader said.
According to ChemOrbis, a few Southeast Asian players, however, were optimistic about the region's demand prospects. "Demand is not that great, but it has improved when compared with the past month. We are waiting to see fresh offers from other producers before making our December announcements, but we believe that we will be able to achieve a modest increase," a source at a Vietnamese producer commented. A PVC pipe and film manufacturer in the Philippines said, "Some of the lower-end prices we received earlier in the month are no longer available and we plan to purchase soon as we feel that the market is close to the bottom." On the other hand, a pipe manufacturer in Malaysia complained that they are seeing slower demand than they had previously experienced for this time of year, adding that they are not optimistic about the demand outlook for the remainder of 2013.