In Asia, upstream PET production costs gained ground during this past week while crude oil and naphtha prices also showed an upward trend, according to ChemOrbis. At the moment, PET markets appear to have responded to these developments, although slowly. The high season is just around the corner and the direction of the PET market could head north in line with the recovery in buying interest.
In upstream news, Asian spot MEG prices gained $25/ton during this past week while PX moved up by $15/ton. However, PTA costs softened by $20/ton during the same period. Meanwhile, in the contract market, Asian April PX contacts were announced with $20-50/ton hikes from March levels. Following Saudi Arabia's air attack on Yemen, crude oil prices moved up above the $50/bbl threshold. Asian naphtha prices, which retreated for the large part of March started to recover again, after March 18, and they gained around $65/ton increases during this past week.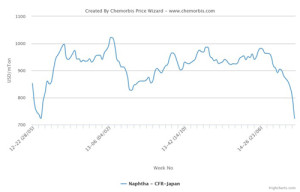 To track weekly developments in China's PET market, please see China PET Polymer Digest (For members only)
While upstream markets appeared firmer, buying interest was reported to be rather slow. In China, overall export prices indicated $10-15/ton softening last week as producers failed to reflect the higher costs to their offer levels immediately. A Chinese producer commented last week, "We lifted up our prices by $10/ton, on firmer upstream costs but overall demand continued to remain thin."
In Southeast Asia, buying interest was also disappointing, according to players' reports, but the general market expectancies remained on the bullish side when considering the firmer upstream costs as well as the approaching high season.
To track weekly developments in Southeast Asia's PET market, please see SEA/India PET Polymer Digest (For members only)
A trader offering on behalf of a Thai producer reported seeing improved demand in Vietnam due to the approaching high season for PET applications.
An Indonesian producer also reported seeing better demand and added that due to this reason, their inventories are tight. "We still supply to our regular customers but we are not able to supply the spot market's needs comfortably given the increased number of inquiries we received. Considering the better demand and higher upstream costs, we may see higher PET prices throughout this week."
Another Indonesian producer, meanwhile, highlighted that demand is stable but weaker than February as per ChemOrbis. Therefore, they are still willing to offer some discounts for purchases above 200 tons. "However, this week, we see a chance of increase on price levels, mostly on firmer upstream costs."
A PET bottle manufacturer in Vietnam remarked, "The peak season is arriving and it may help push up the prices. We see stable end product demand but we anticipate improvement as of April."