HOUSTON, TEXAS- At K 2013, Ascend Performance Materials Inc., a leading producer of PA66 resin and chemical intermediates, is announcing the start of a new compounding line in Pensacola, Florida.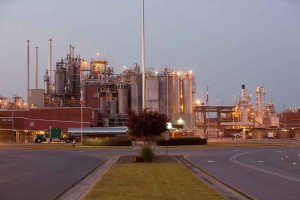 Ascend produces PA66 resin in Pensacola, Florida, and in Greenwood, SC. Since 2005, Ascend has more than doubled its resin capacity, primarily in Pensacola, Florida making it one of the largest PA66 resin producers in the world. In recent years, Ascend has also invested capital and resources to expand production of Vydyne® compounds.
In 2013, Ascend added a world-scale compounding line (30kmt/yr) in Pensacola, Florida. The new line adds state-of-art capabilities for producing unique, high-performance compounds. Ascend believes that the new asset in Pensacola is a key step in implementing its global compounding strategy:
1. Quality: innovative approach to deliver class-leading consistency, cleanliness, and performance
2. Reliability: offer a highly-reliable global network of compounding assets and logistics to ensure uninterrupted supply
3. Scale: develop scale through integration with PA66 resin production site
4. Geography: integrate 'compounding center of excellence' with its resin and R&D assets in southeastern US; customers in EMEA and Asia who prefer local manufacturing would benefit from Ascend's strategic compounding partnerships in those regions
State-of-the-art compounding technology on the new Pensacola line is producing material with significantly improved consistency in viscosity and mechanical properties. In addition, parts molded from these compounds are yielding 50-75% less mold-deposits (also called as 'plate-out'), offering significant process and design benefits in high-volume applications with intricate part geometries.
"Ascend is proud to add new and innovative compounding capability that will bring significant product and process advantages to our customers," said Scott Rook, Vice President & General Manager for the Engineering Plastics business at Ascend Performance Materials. "At K 2013, we're looking forward to engaging our customers on new application possibilities with our improved Vydyne® compounds."For more information, meet the Ascend team at Booth B35 Hall 07.1 or visit www.ascendmaterials.com.