Arkema's materials were used to build the trimaran of skipper Lalou Roucayrol, Arkema–Région Aquitaine, which will participate in the upcoming Route des Princes race.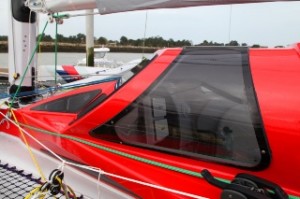 According to its announcement, Arkema is the main sponsor and supplier this 15.2m long "Formula 1 craft of the Ocean" building project. The cockpit window and the glazing shielding the two helms are made of Altuglas ShieldUp nanostructured acrylic sheet, which combines good optical properties with exceptional resistance to impact, UV and abrasion.
Furthermore, many of the boat's components were assembled with structural glues from AEC Polymers, a company in which Arkema recently acquired a 60% stake, and which uses the Nanostrength nanostructured block copolymer technology. Besides achieving a good breaking strength, elasticity compromise in the adhesives, thereby eliminating the need for a composite layer and reducing the overall weight.
The next official competition for Arkema–Région Aquitaine will be the Route des Princes race (Valencia – Lisbon – Galway – Plymouth – Roscoff) scheduled for June 9-31. It will then take part in the Transat Jacques Vabre in November, the overriding objective remaining the 2014 Route du Rhum.
Source: http://www.adsalecprj.com/Publicity/MarketNews/lang-eng/article-67005297/Article.aspx