AMI, Bristol, 11/10/13 – AMI is pleased to announce the 8th edition of The Grass Yarn & Tufters Forum, the international conference looking at trends and developments in the artificial grass market.AMI has lined up an exceptional programme this year with high level presenters from the industry. All sports aspects will be represented with speakers covering issues about football, hockey, rugby and mini-football.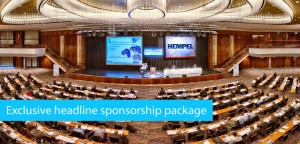 Participants will hear about the new test methods to improve player experience of football turf with FIFA's presentation, as well as IRB's priorities for artificial grass with a paper from the International Rugby Board. The International Hockey Federation will discuss the future evolution of hockey pitches and related performance criteria and the president of the European Mini Football Federation will cover the development benefits for his sport.
The programme also includes several keynote papers giving an insight into an expert municipal buyer's perspective with a presentation from Mr. Gerrit de Koe, Team Manager Outdoor Accomodations and Director/Owner Sports Advice Amsterdam at Sport Adviesamsterdam, and a paper about quality turf in the Netherlands from Ing. Patrick Balemans, Policy Advisor "Facilities" for KNVB.
Other topics will focus on the latest developments in materials with papers such as metallocene polyethylene for high toughness grass yarn by Total, advances in polyurethane by Dow Chemical and testing infill performance by Terra Sports Technology B.V. The Synthetic Turf Council will give their vision of synthetic turf future
innovation while the European Synthetic Turf Organisation will talk about how to make a difference and changing perception through communication, marketing and education. Weathering issues and weather testing will be discussed by Americhem Europe Ltd. and Bonar Yarns.
Other companies speaking at the event include The Toro Company, Sekisui Alveo (Benelux) B.V. speaking on behalf of the ESTO Shockpad WG, Labosport International, and Shaw Sports Turf.The conference will close with a presentation from Jon Nash, Head of Strategic Research at AMI Consulting about the changing world of artificial turf.The event, sponsored by Dow, is now recognised as the key place to be for the industry to meet every year and usually attracts over 150 participants from around the world.
Read more: www.amiconferences.com