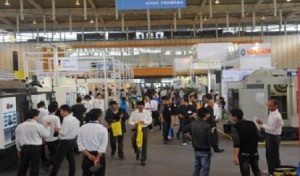 AMB China 2013 (China Metal Working & Forming Exhibition 2013), an international exhibition for machine tools and precision tools, will be held from 14 to 16 October 2013 at the Nanjing International Expo Center, Nanjing, China, for the third time. As the new 5-year plan supports metal industry and CCMT (China CNC Machine Tool Fair) is relocating from Nanjing to Shanghai, the organizers are expecting increase in number of exhibitors and visitorsat this year's event.
The focal points of the exhibition at AMB China are industrial automation and instrumentation, gear cutting, welding, forming and used/retrofitted machinery. According to the organizers, the Chinese government has set the course for the support of equipment manufacturing and intelligent equipment manufacturing in the twelfth 5-year plan, and this will definitely result in an increase in the number of exhibitors. Besides, the relocation of CCMT from Nanjing to Shanghaimeans that there will only be AMB China as an industry meeting point for the metal-working and metal-processing industry in the prosperous Nanjing region.
When talking about exhibitors, various joint stands will be presented in the AMB China 2013. Baden-Württemberg will be represented for the second time at the exhibition with a joint stand. At this platform, German manufacturers will showcase their latest technologies and products. In addition, The Nanjing Liuhe CNC Industrial Park will present its exhibitors at its own joint stand. Other German exhibitors, as well as interested parties from Switzerland and Austria, have also registered at an "International Joint Stand". Taiwan will also be represented with a joint stand.
Meanwhile, various conferences and seminars will be organized under the guidance of well-known Chinese associations: High-end Gear Manufacturing Technology and Equipment Seminar, organized by China Mechanical Industry Federation, undertook by Gear Technology Branch of Society of Automotive Engineers of China; Jiangsu Automation Development Forum, organized by Nanjing Automation & Instruments Association; Automation Instruments Summit Meeting, organized by Technical Committee of Components and Instruments, Chinese Association of Automation; Wind Energy / Turbine Manufacturing Technology Seminar organized by Renewable Energy Industry Association Power Professional Committee of China.
The last AMB China recorded 156 exhibitors from twelve countries and 8,147 visitors, of whom 5%. From next year, the exhibition offering is to be expanded with the topics "material handling" and "production logistics".
Source: http://www.adsalecprj.com/Publicity/MarketNews/lang-eng/article-67004313/Article.aspx