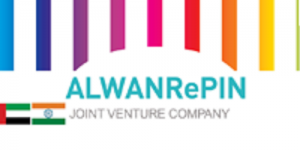 The 11th Arab International Plastics and Rubber Trade show and conference, ArabPlast 2013, was held in Dubai, United Arab Emirates. At the exhibition, the international joint venture, ALWAN REPIN LLC, promoted their vast range of Colour Masterbatches.
The range of Colour Masterbatches offered by the company consists of a wide selection of custom made and innovative colours, along with the standard colours available in the market. According to the company, with an active colour database of over 5000 shades and precise colour matching, they are an industry leader providing expert colour technology.
In the range of regular Colour Masterbatches, they are specialized in pearl colours, glow in the dark, metallic colours, speckded effect, interference range (two tone colours), lead and heavy metal free masterbatches (ROHS), non fading – light fast 8 colours, database of panton and RAL shades for both film and mouldin, food contact approved PET colours for water and pharma bottles.
ALWAN REPIN LLC is currently looking forward to expanding their business in the African and the Middle East Markets, aiming to become one of the strongest companies in the Plastics Industry and a giant among the giants, willing to compete at any level worldwide.