Materials handling and process cooling specialist, AB Systems, has made a significant investment in the company's Buckinghamshire-based headquarters in order to increase the volume of parts it is able to stock. The ancillary equipment specialist has purchased additional warehouse space and a state-of-the-art revolving storage solution to ensure that requests for chillers, drying equipment and spares can be fulfilled as quickly as possible.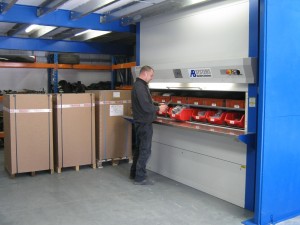 AB Systems is a UK distributor for a number of world-leading materials handling and cooling systemsmanufacturers, including NovaFrigo, SB Plastics, Lorandi Silos, O.M.P and niche OEM brands. The increased storage capacity means that the company can hold a much wider range of parts, which affords many benefits for AB Systems' growing customer base.
"Business continuity is of the utmost importance for any plastics manufacturer, and it can be imperative to get the right support as fast as possible,"explained Jeff Day, managing director of AB Systems. "Being able to stock such a massive range of parts on site means we can cater for almost any eventuality…and fast. Having cherry-picked the very best brands on the market, we can offer like-for-like replacements or recommend alternative OEM parts that we think will better serve the client's application."
To maximise space in the new warehouse, AB Systems has installed a 24-revolving shelf Kardex dynamic storage and retrieval system. The automated unit features over 144 locations and has a total loading of 4,500kg. Its presence directly reflects the company's ambition and growth over the past four years since AB Systems became sole distributor for NovaFrigo and SB Plastics.
"Aside from the obvious advantages for customers, an intelligent storage solution such as this will help us increase productivity, optimise our storage space and improve working practices," said Mr Day. "It operates using the 'goods to person' principle, thus reducing waiting and walking times significantly. Ultimately it's a reflection of the progress we've made as a company in recent years. We have a modern and progressive approach to business that delivers significant benefits for both AB Systems and our customers."
For more information about the materials handling and cooling equipment stocked at AB Systems' headquarters, please contact AB Systems via www.ab-ltd.co.uk, [email protected], or +44 (0) 1844 339 044.