Multi-Wing International A/S, a Denmark-based axial impellers manufacturer, selected BASF's new long glass fiber reinforced polyamide (PA) Ultramid Structure B3WG10 LFX for production of the hubs of its new mixed flow fan.
These hubs, traditionally made with metal, are circular parts fitted on axles or pulleys which then transfer the circular motion to the fans.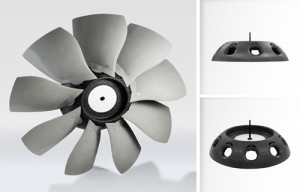 Fan impellers are used in ventilation, for example in tunnel ventilation systems, engine cooling systems and air-conditioning systems.
Axial fans are subjected to high speeds and undesirable natural oscillations and vibrations. Ultramid Structure LFX can withstand these stresses due to its high weld line strength and creep resistance, making it a possible metal-replacement solution.
Its high notched impact strength also means that the material can absorb impact and shock energy at low temperatures down to -30°C without breaking. The plastic also has good heat resistance, while maintaining its mechanical properties over a wide range of temperatures.
"In numerous series of tests we have found that the material can withstand extreme centrifugal forces. The stable fiber network makes it ideal for heavy loads and therefore a good alternative to metals in the production of our hubs," explained Victor Silbermann, Development Manager at Multi-Wing.
The new PA fiber system provides an improved fiber bonding within the plastics which results in a more stable fiber skeleton structure, according to BASF.
"We have optimized the material's properties to such an extent that the plastic has proved a good investment in a number of other applications and current client projects," Andre Schäfer of Application Development for Engineering Plastics at BASF said.
Website:   www.adsalecprj.com