Organized by nova-Institut GmbH from Germany, the 7th International Conference on Bio-Based Materials will be held from April 8-10 in Cologne, Germany.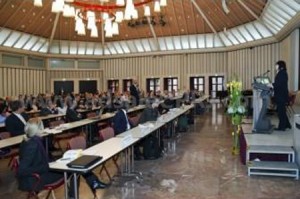 The annual conference aims to provide major players from the European bio-based chemical, plastics and composite industries with an opportunity to present and discuss their latest developments and strategies. Representatives of political bodies and associations will also have a say alongside leading companies.
For the first time, the conference will feature a third day dedicated to start-ups to put them in touch with investors and industry. One highlight of the conference will be the presentation of the first operational European biorefineries and a status report on industrial biotechnology.
Rafael Cayuela from Styron Europe GmbH will discuss global trends and the future of the world-wide chemical industry, especially the role of bio-based chemistry. Prof Dr Stefaan de Wildeman, Aachen-Maastricht Institute for Biobased Materials (NL), sees the future in new bio-based building blocks which allow decentralized biopolymer production. Mario Bonaccorso of Assobiotec, the Italian Association for the Development of Biotechnology, sees great growth opportunities for the Italian economy.
Michael Carus of nova-Institut GmbH (DE) will give the first public presentation of the comprehensive nova paper on reforming the Renewable Energy Directive (RED) so as to level the playing field for bio-based chemicals and plastics with biofuels.
In the last few years, many new innovations have taken place in the field of bio-based building blocks and platform chemicals for the chemical industry. But the main recent innovations have been new production plants for several bio-based building blocks like succinic acid, isobutene, butadiene, butanediol and furan-based chemicals.
These products will be the focus of the conference's second day, when companies such as Reverdia, Global Bioenergies with their latest investment in Leuna Chemical Park – SEKAB, Corbion, Arkema, SOPREMA, Succinity, Novozymes, Avantium and Myriant, a special guest from the US, will present their latest innovations and investments, as well as their experiences of producing bio-based building blocks and polymers.
In cooperation with industrial clusters in Germany, France and the Netherlands, the third day will feature start-ups that have been invited to present their technologies and latest developments in the field of building blocks, polymers and composite to industry and potential investors.