New website will serve as a platform to support, engage and communicate with customers seeking to improve productivity and accuracy of coding and printing
Chicago, Illinois – March 6, 2014 – Videojet Technologies Inc., a world-leading manufacturer of coding and printing technologies, today announced the release of its new website, which has been designed to help its global customers understand the full range of Videojet coding and printing solutions available, access detailed product information and explore industry and application-specific information and resources.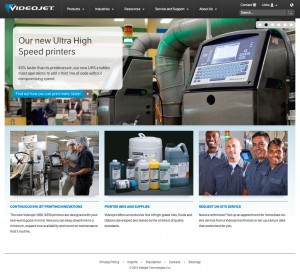 The new website, created with customer needs firmly in mind, was designed to ensure Videojet's extensive portfolio of solutions is easy to browse while also improving navigation and overall usability. As part of Videojet's ongoing commitment to engage customers and provide them with information and services to help achieve their distinct business goals, the new site has been designed to be compatible with the latest generation of Internet browsers and is regularly updated with industry and product-specific technical information, videos, case studies, white papers and much more.
"Videojet partners with customers across the globe to improve their operational reliability and productivity. Our new information-rich website is a natural extension of our focus on maximizing customer interaction – providing not only essential product information, but a wealth of industry and solution-based material that can be accessed and shared at any time," said Chris Riley, Vice President of Marketing, Videojet Technologies.
The website features a live support center that provides immediate assistance in local languages. Website users will be able to interact with customer support specialists, assured that their query is answered and dealt with in a professional, swift manner.Riley added "We recognize that, when in need, people want answers as soon as possible. This is why we made providing our customers with immediate support a key element of our new site, and yet another example of our continued investment to making the lives of our customers easier wherever possible."
"The new website is just another example of our sustained investment in informing and supporting customers. We have an immense passion to partner with our customers' and as such the new website – has been designed through a collaborative approach with clients. This is just one of the ways we are making ourselves available to help them make the right choices for their business."
For more information, please visit www.videojet.com