According to ChemOrbis, players in Egypt report that US PVC prices are witnessing steep declines in the country, tracking generally bearish sentiment in polymer markets and weaker upstream costs.
In addition, players commented that prices are also facing pressure from lackluster demand in the country as many converters believe that further decreases will be obtainable in the coming weeks.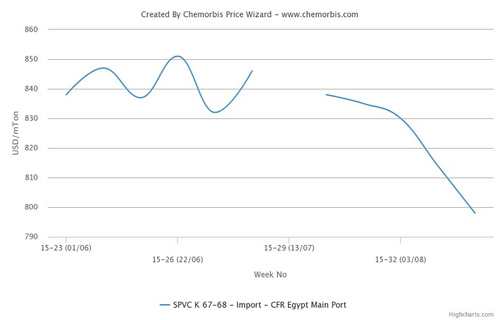 According to data from ChemOrbis Price Index, import PVC prices on a CFR Egypt basis have posted a sharp decline of nearly $50/ton over the five working weeks since the end of the Ramadan holidays, with average prices on a cash equivalent basis dropping below the $800/ton threshold for the first time since late January. Since Egypt sources virtually all of its PVC import requirements from the US, the graph above fully depicts shifts in US PVC pricing to the country.
A trader offering US PVC to both Egypt and Turkey commented, "We are seeing relatively better demand in Egypt now as the recent revision in Turkey's anti-dumping rules for PVC have driven many Turkish buyers to source from other origins. However, our Egyptian customers are also a bit hesitant now as they anticipate further price reductions in the days to come. We are willing to consider $10-20/ton discounts for buyers placing firm bids." Another trader offering American PVC to Egypt added, "Buying interest is mostly stalled as converters are expecting lower prices. We are willing to consider some discounts, but are not prepared to go below the $800/ton threshold."
A converter commented, "We expect to see PVC prices below the $800/ton level shortly as limited demand and globally bearish sentiment continue to weigh down prices." A pipe manufacturer added, "US PVC prices are trending lower, but we still prefer to wait as we think that further declines are possible. The Egyptian Customs Department has issued a new regulation requiring all cargoes in the ports to be inspected and the inspections may result in additional delays of around 15 to 25 days for importers, which may result in more buyers sourcing from the local market in the days ahead."