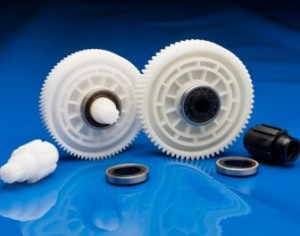 According to Ticona Engineering Polymers' press release on February 22, Hi-Lex America Inc has developed high-precision plastic transmission shafts and gears injection molded with Ticona's Celcon acetal copolymer (POM) and Celstran Long Fiber Reinforced Plastics (LFRT).
"For several years, Hi-Lex customers have used a two-stage reduction transmission that relies on precision steel ball bearings mounted on plastic shafts and accompanying 2.5″ diameter plastic gears to achieve the desired reduction between the electric motor and a flexible torsional cable assembly to lift and close big, heavy automotive rear lift gates," says Fred Eberle, Technical Engineer at the Hi-Lex Automotive Center in Michigan, the US. "A first generation model used a powder metal shaft system, which was subsequently replaced with a plastic shaft system that provides an immense improvement in NVH (noise, vibration and harshness) and makes our customers very happy."
Through collaboration with Ticona, the American Gear Manufacturers Association, Ohio State University Gear and Power Transmission Research Laboratory and gear software developer Universal Technical Systems, Hi-Lex optimized and refined the second generation lift gate transmission via extensive research and development and testing. According to the release, it relies on first- and second-stage plastic splined shafts attached to plastic gear wheels in a gearbox with a rated torque output capacity of about 12 Newton meters (106 inch pounds).
To focus on developing the two-stage transmission, Ticona says its Senior Design Engineer David Sheridan formed a plastic gear team with Hi-Lex that included Mr Eberle. The team defined, analyzed and optimized the design to take advantage of many considerations unique to plastic gearing. These considerations is said to be significantly more complex than those for standard metal gears.
"Although Eberle has extensive experience and skill in regards to gearing and drive development, the Ticona/Hi-Lex gear team took the design and optimization process to the highest level of geometry analysis, material application and plastic gear experience," says Mr Sheridan. "Ticona used its 50 plus years of plastic gear experience to help Hi-Lex develop this high-precision plastic gear transmission."
According to Ticona, the following materials were selected by the team: Celcon M90, a general purpose, unreinforced POM that provides a good balance of toughness and fatigue strength for the first-stage gear and shaft; Celcon GC25T, a 25% glass-coupled POM that provides the necessary stiffness and fatigue strength for the second-stage output gear; and Celstran PA 66-GF50-02, a 50% long glass fiber polyamide 66 with high strength and stiffness combined with high heat deflection for the second-stage output shaft.
"For several years, original equipment manufacturers have used our power lift gate transmissions in a variety of automotive platforms," Mr Eberle noted. "Not once has a gear broken, worn out or failed in any of our testing, even with multiple design lives, or in service. The gears are nice and quiet. In fact, they get even quieter at elevated temperature, exactly like they were designed to do."
Source :
Transmission made quiet with plastic shafts and gears