Tokyo, Japan, March 10, 2014- The Teijin group announced today that Toho Tenax Co. Ltd., the group's core carbon-fibers business, and Teijin Aramid, the group's core aramid-fibers business, will exhibit high-performance fiber products at JEC Europe 2014.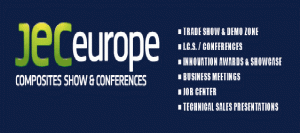 JEC Europe, the world's largest composites industry organization with a network of 250,000 professionals from 100 countries, will manage the annual show in Paris from March 11 to 13.
The Toho Tenax booth (7.3K17) will feature Tenax® carbon fiber filament yarn with tailored sizing for new thermoplastic and high-temperature applications. Also on display will be two new short fiber types — Tenax®-E HTS45 P12 12K 800tex and Tenax®-E IMS65 P12 24K 830tex — which will be launched globally this year and produced by Toho Tenax in Oberbruch, Germany.
Toho Tenax will additionally present two semi-finished Tenax® ThermoPlastics — ThermoPlastic UniDirectional (TPUD) and ThermoPlastic Consolidated Laminate (TPCL) — as well as structural and design components made of Tenax® Part using preform technology.
The Teijin Aramid booth (7.3K18) will showcase Twaron® and Twaron® black, the first high-modulus black para-aramid yarn. Composite materials based on Twaron®, Technora® or Endumax® offer attractive energy-saving and eco-minded solutions. Twaron® or Technora® are used whenever stiffness, strength, excellent damage tolerance and great aesthetics are required, e.g. in boat hulls and sails, hockey sticks, motorcycle helmets and other sporting goods. Other applications for aramid and UHMWPE composites, such as concrete reinforcement, speaker cones, mobile phone casings, rods for circuit breakers or laminates for ballistic protection will also be presented.
About the Teijin Group
Teijin (TSE: 3401) is a technology-driven global group offering advanced solutions in the areas of sustainable transportation, information and electronics, safety and protection, environment and energy, and healthcare. Its main fields of operation are high-performance fibers such as aramid, carbon fibers & composites, healthcare, films, resin & plastic processing, polyester fibers, products converting and IT. The group has some 150 companies and around 17,000 employees spread out over 20 countries worldwide. It posted consolidated sales of JPY 745.7 billion (USD 7.4 billion) and total assets of JPY 762.4 billion (USD 7.6 billion) in the fiscal year ending March 31, 2013. Please visit www.teijin.com.