The solar photovoltaic industry is predicted to expand from 102 GW installed capacity in 2012 to 200 GW in 2016, which will require massive growth in manufacturing. However, the module producers have been shaken up by oversupply in the marketplace and variability in governmental policies on renewable energy and many suffered financial meltdown or withdrew from this market in the past 2 years. In the 1970s the cost of PV was around US$70 per Watt and in 2013 it was less than 80 cents per Watt with a price reduction of 80% in modules in the 5 years to 2012.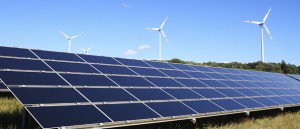 The good news is that the situation has forced technology forwards and driven prices of panels down so that grid parity with conventional sources of electricity is now very close – this means that the industry could stabilise and compete regardless of the whims of government. IHS regularly reviews this data and will be giving a market overview at the forthcoming AMI conference on Polymers in Photovoltaics 2014, which takes place from 16-18 April 2013 at the Maritim Hotel in Cologne, Germany.
The pressure is on to cut costs in module manufacturing and to improve the efficiency of power generation to give businesses an advantage and to compete effectively in the global marketplace. The products must last for decades and the polymer materials are critical in terms of durability and weathering and in light transmission and protection of the silicon component as back sheets, front sheets, encapsulant, glass coating, adhesives and sealants. Suntech Power in China, one of the largest global module manufacturers, has reviewed the company's requirements for backsheets and encapsulants, while Renewsys has made a similar study in India. DuPont Teijin Films provides cost-effective PET backsheets and Polyplex is another backsheet supplier. The role of ultra-barrier films in PV is the research topic of the Centre for Process Innovation in the UK.
The solar power farmers are now looking back and learning lessons about durability and performance over decades in operation and are making more demands from their suppliers. Companies like ENI have assessed module reliability and are looking at emerging technologies. From the research side the Fraunhofer ISE studies efficiency and has reviewed some of the power loss mechanisms in modules, while ECN has studied the advantages of bifacial module technology.
Encapsulant is a particularly difficult polymer to specify as it must protect the silicon from moisture and last 25 years to meet the insurance criteria. The Photovoltaik Institut in Berlin has examined the causes of field failures due to encapsulation materials, while the EPFL has studied moisture ingress. The most common plastic in use is crosslinked EVA, although some companies are looking for an alternative drop-in solution with even higher capability that can be used on existing processing equipment. Laytec In-Line has quality control equipment to monitor the degree of crosslinking in encapsulant.
Testing and certification from peel-testing (TUV Rheinland), fire performance (UL) and weathering (Atlas Material Testing Technology) are all specified PV criteria.
There are innovations in module structure and manufacturing including lightweight PV module designs from Tulipps Solar and the Fraunhofer CSP, woven electrodes from Sefar in Switzerland, advanced manufacturing technology for concentrator solar modules from Solar Capture Technologies, roll to roll production of thin film solar cells from Maschinenfabrik Herbert Meyer and design enhancements with luminescent doping from Heriot-Watt University.
The state of the market will be reviewed at Polymers in Photovoltaics 2014, which provides a unique networking opportunity for solar power manufacturers to meet with polymer experts and researchers to look at current and future technology to find cost-effective manufacturing solutions.
Author and contact for further information:
Dr Sally Humphreys
Business Development Manager
Applied Market Information Ltd, AMI House, 45-47 Stokes Croft, Bristol, BS1 3QP, UK
Tel: +44 117 924 9442 Fax: +44 117 311 1534
Email: [email protected]
Web site: www.amiplastics.com