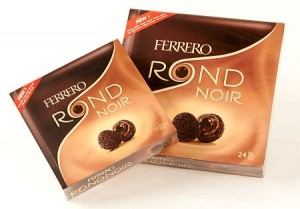 Innovia Films' shrink tightening BOPP substrate, Propafilm™ OS, has been selected by global confectionery manufacturer, Ferrero, to overwrap boxes of its Rondnoir chocolates.
Propafilm™ OS is a high-speed, transparent, overwrapping film manufactured using Innovia Films' unique bubble process.  It has balanced shrink tightening properties and offers a sparkling pack appearance.
In addition Propafilm™ OS can significantly increase product shelf life owing to the superb water vapour, flavour and aroma barrier properties it can offer.
"We are pleased to supply Propafilm™ OS to Ferrero.  The outstanding sparkle and gloss of the film are important factors in the confectionery market, where shelf appeal and pack wrap tightness can influence purchasing decisions," said Steve Langstaff, BOPP Product Manager, Innovia Films.
Ferrero Rondnoir is mild, dark chocolate with delicate wafer, smooth chocolate cream and an almond pearl hidden within.  The BOPP overwrapped chocolates are available in two sizes of box – 12s and 24s throughout Europe.
For further information please contact:
Patricia Potts, Global Communications Manager / Zena Bergmann, PR Assistant
Innovia Films Ltd, R & D Centre, Wigton, Cumbria, CA7 9XX, UK
Tel: +44 (0) 16973 42281
Fax: +44 (0) 16973 41452
Email: [email protected]    [email protected]
www.innoviafilms.com
For more information on Ferrero please visit www.ferrero.com
Propafilm™ is a registered trademark of Innovia Films Group.
Innovia Films Ltd, is a major producer of Biaxially Oriented Polypropylene (BOPP) and cellulose (Cellophane™) films with production sites in the UK, USA, Belgium and Australia.  It holds a leading global position in the markets for labels and security films, coated packaging, overwrap and biodegradable and compostable films.  The latter, under the brand-name NatureFlex™, made Innovia the first film company globally to carry a product range that offsets the residual carbon-balance.
Worldwide Innovia Films employs some 1,350 people, with a focus on high quality speciality products, strong customer relationships, R&D, and unsurpassed service.