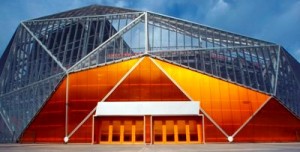 BERGEN OP ZOOM, The Netherlands, December 19, 2012 – When Houston's new BBVA Compass Stadium opened this year, Houston Dynamo fans were welcomed with a brilliant display of the soccer team's distinctive orange brand featured on enclosed entrances with a vibrant shade of LEXAN™ THERMOCLICK™ sheet from SABIC's Innovative Plastics business.
This new, state-of-the-art, open-air stadium is the first U.S. stadium to utilize polycarbonate (PC) LEXAN THERMOCLICK sheet product for its enclosed entrance façade. Enhanced design freedom and a brilliant orange color provided by SABIC's 50-mm THERMOCLICK sheet made a major contribution to the unique style of the new urban stadium, which reflects the industrial heritage of its East Downtown location and the Dynamo brand.
The material's nine-wall configuration delivers a high level of thermal insulation for energy savings, and the 1,000-mm wide panels – twice the width of traditional panels – reduced installation time and labor to support tight construction budgets. The stadium is a new milestone in SABIC's three decades of success delivering state-of-the-art materials to help architects and designers achieve ever-higher levels of safety, durability and design excellence.
"We are very pleased to announce the latest expansion in the use of LEXAN sheet products, which have been chosen to create large and dramatic architectural glazing, roofing and façades in stadiums and arenas around the world," said Sandeep Dhawan, general manager Americas, Specialty Film & Sheet, SABIC's Innovative Plastics. "With the global spotlight on sustainability, our lightweight and versatile LEXAN THERMOCLICK sheets perform beautifully in a wide range of climates and conditions, helping improve energy conservation in large structures like stadiums."
A Winning Material Solution
For the 22,000-seat BBVA Compass stadium, which opened on May 12, 2012, the architectural firm Populus designed an exterior surface composed of geometrically expanded metal mesh and orange LEXAN THERMOCLICK sheet cladding. AmeriLux International LLC, SABIC's authorized distributor in United States and the country's exclusive distributor of 50mm LEXAN THERMOCLICK sheet, provided the 1,000 mm wide panels used in the façade system which was designed and engineered by Duo-Gard Industries, Inc., of Canton, Mich.
"We're excited about the opportunity to share this exceptional SABIC product with the U.S. architectural community," said, Kurt Voss, chief executive officer, AmeriLux International LLC. "LEXAN THERMOCLICK sheet has already sparked the interest of architects and designers all over the world and as demonstrated in the Houston stadium, it has great potential to be further utilized in the vast U.S. building and construction market."
LEXAN THERMOCLICK sheet system in 50-mm thickness provides the signature high impact resistance of LEXAN resin for safety, ultraviolet (UV) protection on the outer surface for weatherability, and good light transmission for a pleasant ambiance. This solution offers a superb U-value of 0.176 Btu/h t2 Fahrenheit (1.0W/m2 K) for thermal insulation, leading to energy savings by reducing power consumption up to 17 percent vs. traditional high-return, double-pane glass glazing.
With a specially designed V-joint connection profile, including a groove and smart snap design on both sides, LEXAN THERMOCLICK sheet's interconnecting configuration eliminates the need for vertical profiles, thereby reducing costs and enhancing aesthetics. Also, this new tongue-and-groove connection design provides high stiffness and low horizontal purling at larger spans.