ENGEL now presents its new digital look. Boasting a modern design and an extremely clear navigation structure, the new website guides its visitors intuitively to the information they want. Gerd Liebig, Group Marketing Director at ENGEL, says: "When the site was being developed, the aim was to get users where they want to be even more quickly. Our website is being used more and more, and our customers should be able to expect top-quality service from ENGEL online too."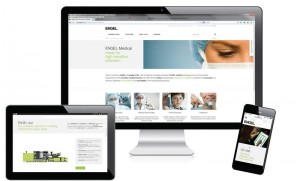 Solutions for specific requirements
Besides providing a detailed overview of ENGEL's product range, the new website reflects the company's strong focus on applications. Under the menu item "Business Lines", injection moulding facilities can now find possible solutions for their specific requirements. Examples include solutions for high-quality car interior design, cost-optimised thin-wall containers and electronic display screens with multifunctional surfaces. Numerous hyperlinks allow users to learn more about a topic and read press articles, while videos and animation spots make even complex machine functions and manufacturing processes easy to understand.
ENGEL has a separate area called "ENGEL plus" for its service products. For the first time ENGEL's complete range of after-sales services is presented here. The content is divided up according to various objectives, which means that even those who are not familiar with the ENGEL service products can learn a great deal about them and possibly tap into new ways of optimising potential.
Straight to the right contact
One highlight of the new website is the new global request and contact network. With just one click, visitors can contact the person responsible for a particular topic in their country. Gerd Liebig says, "This decentralised contact management system allows us to respond to online requests even more quickly and, above all, accurately."
Customer proximity is, of course, important to ENGEL online as well, and for this reason the website is available in 26 country-specific versions. This enables ENGEL to keep their customers up to date on local topics, events and job opportunities at their respective sites.
The same responsive site design has been used for every country. This ensures that the content and functions are displayed perfectly even on mobile end devices like tables PCs and smartphones.