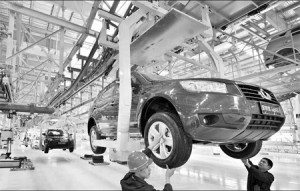 QAD Inc., a global provider of enterprise software and services, announced the Automotive Edition of QAD Enterprise Applications has greater market share in China than any other enterprise resource planning (ERP) solution, according to the report, China Automotive Industry IT Solutions 2012 – 2016 Forecast and Analysis, Doc #CN8037306U by Luke Fang, Research Manager at IDC.
As said, of the top five ERP providers in China, QAD was the 2011 automotive industry leader ahead of SAP, UFIDA, Infor and Siemens. Fang notes, "The QAD customer base has expanded from foreign-funded enterprises to local state-owned and private enterprises. This offers advantage for QAD to expand in the local China market." According to the report, China's automotive industry IT solution market will develop stably at a 2012–2016 compound annual growth rate (CAGR) of 12.6% in the coming years. Upgrades, mergers, restructuring and divestures will drive the IT solution market.
"The China automotive manufacturing market continues to grow at a robust rate, and IDC's recognition of QAD as the market share leader demonstrates the demand we're seeing for QAD Enterprise Applications," said Paul Henderson, senior vice president, APAC Region at QAD. "Our leadership in China is the result of our laser focus on assisting our customers to perform at their best." "Our aim at QAD is to combine our focus on manufacturing and automotive industry standards to ensure we understand, better than any other ERP vendor, the challenges and opportunities China manufacturers face," added Henderson.
"At QAD, we are dedicated to helping every automotive customer achieve customer requirements for quality, cost and delivery. These are the factors that drive an Effective Enterprise." QAD China headquarters are based in Shanghai with further field offices in Guangzhou and Beijing.
Source: http://www.adsalecprj.com/Publicity/MarketNews/lang-eng/article-67004133/Article.aspx