Kirchlengern, 25 March 2014. Milchhof Sterzing, in Italy's South Tyrol, has been modernizing its equipment on an ongoing basis over the last several years – and each time it relied solely on the packaging machines of the OYSTAR Group. Now the dairy company is producing on eleven machines built by the leading international machinery maker and has thereby managed to double its production capacities.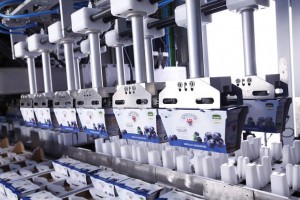 Recent additions: two multifunctional packaging lines from OYSTAR A+F for producing yoghurt. The SetLine series machines at Milchhof Sterzing process single cups as well as 2-cup and 8-cup sets. Together, they produce up to 22,000 125-gram cups per hour. Where needed, the cup sets can also be fitted with all-round sleeves. Thanks to the modular machinery concept, both systems are equipped with a filling system in front and a palletizer in the back. "Now we cover the entire packaging process in a single line", explains Dr. Günther Seidner, MD of Milchhof Sterzing. "The functionality and construction of the SetLine series offers us more than the greatest possible packaging flexibility in very little space; it also provides significant cost advantages."
Now the packaging process runs as follows: The filling machines move the yoghurt cups along a single-lane conveyor belt to the SetLines, where servo-driven switches separate them onto dual-lane belts. When operating without sleeves, the single cups are then grouped and positioned into perforated cases using a servo-driven expansion joint. Alternatively, 24 cups are placed into the pick-up position, drawn by suction and fitted with sleeves into 2-cup or 8-cup sets. Once loaded with single cups or cup sets, the cases are then transferred to a transporter and fed to the palletizer.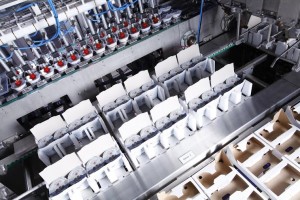 Faster Format Changes
"Thanks to the state-of-the-art drive technology, the SetLine systems operate extremely smoothly throughout the entire process", adds Klaus-Dieter Hellwig, Area Sales Manager at OYSTAR A+F. "This ensures that the products are brought through the machine so calmly that yoghurt does not slosh around under the lid." In addition, the systems feature simple, intuitive operator ergonomics and reduced changeover effort. "Now we need ten minutes tops to change formats", emphasizes Dr. Seidner of Milchhof Sterzing. "This allows us to decrease our production downtimes tremendously."
This was even true during installation of the new lines. The two predecessor machines were disassembled and the new SetLines set up without even interrupting production. "We put together a precise schedule beforehand so that Milchhof Sterzing would only have to reduce its production capacities to a minimal extent during installation", explains Klaus-Dieter Hellwig of OYSTAR A+F. "And they stuck to the schedule exactly", Dr. Seidner adds. "This reliability is one of the reasons why we have been collaborating with the OYSTAR Group for years."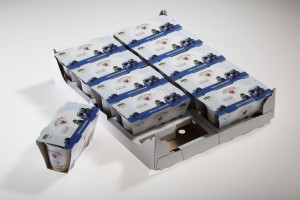 Twelfth Machine Already Up and Running
In addition to the two new SetLine packaging lines, Milchhof, which operates as a cooperative, already has one line from the same series and five case erectors, one conventional palletizer and one palletizer that handles three layer sheets in operation. On top of this it has a high-performance cup filling and sealing machine from OYSTAR Gasti. "We're highly satisfied with all eleven machines and have now managed to double our productivity", sums up Dr. Günther Seidner. "This made it easy to decide to further expand our business relationships this year."
For example, Milchhof Sterzing has already commissioned a new glass-filling line including a filler, erector, packer and palletizer. The glass-filling system will be provided by a specialist supplier while the other machinery components will come from OYSTAR A+F. OYSTAR A+F will also handle the overall coordination of operations. The machine will be delivered to South Tyrol at the end of October 2014. "We're extremely happy that Milchhof Sterzing has again put its trust in us", states Klaus-Dieter Hellwig of OYSTER A+F. "When the customer is satisfied, we are, too – and we'll do our best to make sure it remains so in the future!"
About Milchhof Sterzing
The dairy products of Milchhof Sterzing are sold throughout Italy – from yoghurt and milk to cream and butter. The company is one of the leading producers of yoghurt in the nation, with full-year revenues of about EUR 77 million in 2013. Each day, the 485-member-strong cooperative produces up to 1.5 million cups of yoghurt.http://www.milchhof-sterzing.it
About OYSTAR A+F
A+F Automation + Fördertechnik GmbH is a globally operating company in the OYSTAR Group with a total workforce of 170 employees. The company specializes in the design, manufacturing and servicing of fully automatic final packaging systems.
About OYSTAR Group
OYSTAR. The Packaging Group is one of the world's leading suppliers of packaging machinery, technology and services. OYSTAR has extensive know-how in the key industries of dairy products and food. Based in Stutensee near Karlsruhe, Germany, the holding company currently represents 9 production locations in Europe and Asia as well as numerous sales and service companies. At present OYSTAR Holding employs a workforce of more than 1,000 worldwide and generated a total of approximately EUR 200 million in sales in 2013.www.oystar-group.com