Plastics Color Corporation, a leading provider in in colorants, com-pounds, additive masterbatches and custom polymer technologies, has revealed their 2016 Color of the Year.
The top spot goes to a bright, reddish hue appropriately named Giggles. This lively shade tops Plastic Color's list of hottest colors for the coming year, a collection that includes other provocative hues such as Deep Sea, Tomorrow Blue, Momentum and Exhilaration.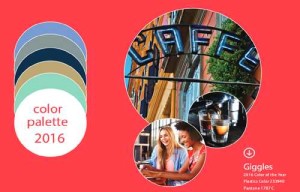 These colors are all part of the 2016 Color Trends palette developed by Plastics Color. All of the colors fit the overarching theme of TechYes, a concept developed to explain the synergy that exists between technology and color.
Plastics Color will use the 2016 Color Trends collection and the accompanying theme TechYes to help customers select the most appropriate and effective colors to incorporate into products and packaging.
The company emphasizes color is one of the most influential factors impacting product design and consumer buying trends, which is why choosing the right shade is so important for marketers.
Website:                            www.adsalecprj.com