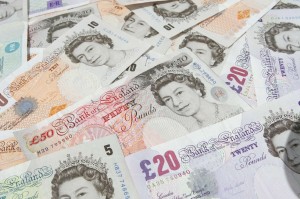 The Bank of England announced on 18th December that it would be printing banknotes on a polymer material.A major problem with banknotes has been that dangerous bacteria can be carried from one person to another, and a report byQueen Mary University in October 2012 showed that 14% of paper bank notes and 10% of bank cards were contaminated with faecal organisms. 8% of cards and 6% of notes showed contamination at the level you would expect in a lavatory bowl.
According to The Independent (13 Sept 2013) "A study of the survival rates of microbes such as E.coli and the MRSAsuperbug, when placed on seven different currencies has found that they thrive best on money printed on the plastic banknotes earmarked to be introduced in Britain."However, this danger could be greatly reduced by including in the polymer an anti-bacterial formulation which is now available from Symphony Environmental Technologies Plc – a UK company specialising in advanced plastics.
Michael Laurier, Symphony's CEO, said:
"Some of these bacteria can be extremely dangerous and have proved resistant to antibiotics, so we need to deal with them before they get into our bodies. Following years of R&D, Symphony can now supply an anti-microbial and anti-fungal formulation called d2p, which can be added to most types of plastic, and it should be introduced as quickly as possible," says Laurier. "not just for banknotes, but for bank cards, driving licences, bus passes, retail cards, shopping bags, computer keyboards, steering-wheels, telephones, door handles, and many other applications.
d2p has been independently tested by recognized laboratories and is effective against over 50 dangerous organisms, includingMRSA, E.Coli, Salmonella, LIsteria, Pseudomanas and Aspergillus Niger. These are germs which lurk everywhere, in hospitals, schools, homes and offices, as well as inside long-life shopping bags.
Also, if d2p is put into the manufacture of plastic food packaging it has been proved to extend the time before the food becomes mouldy."
Symphony Environmental Technologies Plc is an AIM-listed company on the London Stock Exchange. With its Head Office at Borehamwood near London, and laboratories in the UK and abroad, it operates in over 90 countries worldwide. In addition to d2p, it has developed d2w – which causes plastic to convert at the end of its useful life into a biodegradable material – and d2t which protects brand-owners and consumers against fake goods made of or packaged in plastic.For further information, see www.d2w.net