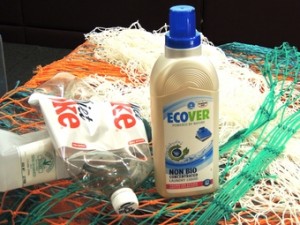 One man's trash is another man's treasure isn't just an old idiom; it's become a sustainable business model for repurposing plastic waste into packaging. It's estimated that about 10% of the world's plastic waste finds its way into the sea and Belgium-based ecological cleaning brand Ecover says it wants to help clean up the mess. The company recently announced plans to develop a new polymer mix that incorporates plastic waste from the ocean into its bottles.
"As part of the Waste Free Oceans initiative, we're going to be working with the fishing community to collect plastic from the seas and reintroduce it into the recycling chain through our bottles," a company spokesperson told PlasticsToday. "Of course the end goal is to eliminate plastic waste in the sea in the first place, but today it's a big issue and we wanted to do something to help now."
The new polymer mix contains post-consumer recycled plastics, the sea waste and Ecover's 'Plantastic', a green plastic that is sourced from sugarcane. The company is looking at producing both PET and HDPE with this mix. The spokesperson said this project aims to address a number of key issues of plastic waste in the UK as well as adding a whole new sustainable dimension to Ecover's packaging.
This innovative initiative involves waste plastic being collected from the seas around the UK by EU fishermen. The sea waste collection itself will be undertaken by existing fishing trawls with Waste Free Oceans engaging Europe's fishing community in cleaning up floating marine debris then bringing it back to land for recycling and sorting. Boats outfitted with a special trawl will be able to collect between 2-8 tonnes of waste per trawl for cleaning and recycling.
The collected waste will then be sent to Closed Loop Recycling's plant in Dagenham, London where it will be processed and turned into plastic and used to make Ecover's new bottles. Ecover is working with Closed Loop Recycling to develop the material since its factory recycles both PET and HDPE, so Closed Loop already has an understanding of the challenges involved in developing new types of packaging using recycled content, the spokesperson said.
In terms of quality, the Ecover spokesperson said no extra steps are needed to ensure the marine waste is removed of any residual material as it will all go through Closed Loop's sorting, separating and super cleaning process before it becomes food grade.
The packaging containing sea waste, Plantastic and PCR is expected to be available by 2014 and will be fully recyclable and sustainable. As of now, the spokesperson said it's not possible to put a percentage on how much waste will be used from the sea in the packaging, because it depends on the volume collected and the quality of it. "What we can pledge is that we will use sea waste in a significant amount of our products," the spokesperson said.
Source: http://www.plasticstoday.com/articles/Ocean-plastic-waste-a-hot-commodity-for-packaging0402201301