Made-in-Sacmi technological solutions to be showcased at this key international plastic and rubber fair (Shanghai, 23-26 April 2014). The star of the Sacmi stand will be the CCM48, the world's most competitive single-piece cap manufacturing press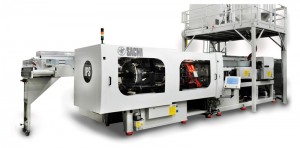 Sacmi will be playing a prominent role at Chinaplas, the most important international fair for the plastic and rubber industry which, this year, will be held in Shanghai from 23 to 26 April. The world's leading manufacturer of complete plastic cap manufacturing lines, Sacmi will be in China with the CCM 48S: developed by the Closures & Containers Division, this is the very latest in a series of presses that is gaining customer approval all over the globe.
The CCM48 has already been exhibited at the Kappa and Drinktech 2013 fairs where it generated excellent feedback from industry specialists. At Shanghai, it will play a central role on the Sacmi stand (hall E2, stand E2B45). Designed and developed specially for this market, the machine can produce up to 2000 plastic caps per minute with just 48 moulds, making it today's most competitive solution on the single-piece CSD, water, hot filling and cold aseptic filling cap-making market.
The CCM48S presented at the fair will be equipped with a mould suitable for manufacturing single-piece AB29W caps in HDPE (high density polyethylene) with a diameter of 29 mm and a weight of just 1.35 grams. This will also be an opportunity, then, for the Division to illustrate the general competitive advantages compression technology can offer manufacturers of plastic drink caps. Moreover, of course, there is the added value Sacmi provides in terms of low consumption, process constancy, reduced cycle times, low maintenance costs and outstanding management flexibility (i.e. ultra-short colour changeover times and excellent repeatability of the production process).
Featuring an extremely compact design that ensures excellent user-friendliness, the CCM48S can be smoothly integrated with the innovative CVS in-line quality control vision system; made by Sacmi's Automation & Inspection System Division, the latter ensures, thanks to advanced software and a high resolution camera system, total cap control, thus eliminating potential defects. In addition to this innovative machine, visitors to the stand will also find helpful personnel from Sacmi Closures&Containers, Sacmi Automation & Inspection Systems, Sacmi Hong Kong, Sacmi Nanhai, Sacmi Shanghai and Negri Bossi.
Sacmi Automation & Inspection Systems will be presenting multiple inspection solutions, one of the most noteworthy being the CHS Lean. This modular solution offers excellent inspection rates (up to 2,500 caps per minute, 150,000 caps per hour) and has been developed for installation downstream from compression and injection lines. Especially recommended for post-slitting, printing or pre-packaging checks, the CHS offers the perfect solution for complete cap inspection (inside and out) thanks to a modular structure that allows personalised configurations to meet customers' specific quality control needs.
Chinaplas 2014, also offers an opportunity to showcase the results achieved – just two years after its market launch – by the innovative IPS220, the preform injection press that combines the very best of Sacmi's experience and technology with outstanding PET preform production solutions and the know-how developed on the closures front with the CCM series. Right from the very first installations, the IPS 220 won extensive market acclaim thanks to its performance (productivity and energy consumption), flexibility and user-friendliness (fast format changeover) A tangible demonstration, then, of Sacmi's capacity – shared by very few others in the industry – to lead the way in different businesses and technologies.
Also heading for Shanghai will be Negri Bossi, the Sacmi Group company that is a European leader in the design and production of plastic processing machines; they'll be presenting new products in their integrated moulding and post-processing solution range.
Chinaplas continues to be a not-to-be-missed event for the Sacmi Group. In recent years the Group has taken on a decisive role in developing product and process innovation, especially as regards cap-making technology; such innovations are leading the world on account of both their outstanding productivity and quality and their flexibility and low energy consumption. These solutions boost the customer's competitiveness, a factor especially important in an emerging economy like China's where tough competition is the flip side of the enormous opportunities offered by a continuously expanding market.
SACMI IMOLA S.C.
Via Selice Prov.le 17/a
40026 Imola BO Italy
[email protected]
Skype: sk.golliniv
t. +39 0542 607 607 f. +39 02 577 63006
m. +39 347 5216895