Some initial offers and price ideas for November are surfacing with decreases in Italy's PVC market as per the pricing service of ChemOrbis. Lackluster demand along with the decrease in the ethylene contract were cited as the primary factors weighing down on prices.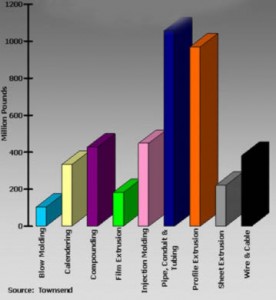 A Central European producer announced an initial spot price for November with a €15/ton decrease after concluding their October deals with €20/ton declines. "We have already managed to sell a few November cargoes at our new prices.
Demand was not very good in October as many buyers were working with existing stocks, but we expect to see more active buying interest for November," a producer source commented. A distributor offering on behalf of a Central European producer expressed their sell ideas for November with €10/ton decreases. "We are seeing greater buying interest for November as converters believe that more attractive prices will become available next month," the distributor commented.
According to ChemOrbis, before the ethylene settlement, a PVC compounder expressed their buy ideas for November with €50/ton decreases. "Demand was not good over the past month and prices were trending lower over the second half of October. We believe that prices will continue to fall in November," the compounder stated. A pipe manufacturer also predicted lower prices for November, although the buyer said that they do not expect a significant downward movement.
"We did not purchase much material last month as we were able to work with our existing stocks. Demand for our end products has slowed now that the slow season for the construction sector is beginning," the converter reported. A converter in the food packaging sector forecasted that k70 prices would drop by around €80/ton over the next two months. "Food packaging demand is not bad, but we believe that prices will soften along with the drop in the monomer contract," the buyer said.