US-based plastic processing equipment supplier Milacron has announced multiple expansion plans for the Uniloy, DME and TIRAD product brands in Šašovice and Policka, Czech Republic.
These multiple manufacturing and distribution facilities will act as the key locations for these product brands in Europe, the company stated.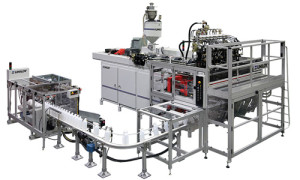 The expansions in Šašovice, Czech Republic, all opening in April, include both a 1,000sqm expansion to the current TIRAD facility plus a brand new 3,000sqm distribution center. The investment totals more than €5 million.
"We knew that expansion and investment in Europe was required in order to support our growing customer base," said John J. Gallagher, Chief Operating Officer, Melt Delivery & Control Systems/Fluid Technologies, Financial & Shared Services, Milacron. "The facilities in Czech allow us to offer more support, more flexibility and more product inventory, all at faster delivery times – services that we feel are critical in this market."
In addition, new construction is also taking place in Policka, Czech Republic, which will be the new home for Milacron's Uniloy blow molding machine systems. The 11,000sqm site is scheduled to open this month and allows for further expansion. Total investment exceeds €11 million, the company revealed.
Ron Krisanda, Chief Operating Officer & President, Advanced Plastic Processing Technologies, Milacron, stated, "The new facility in Policka, not only provides us with the flexibility and room to manufacture our complete range of Blow Molding machinery technologies, it also represents a major step forward in our plans to become a global supplier of blow molding machinery systems."
Website: www.adsalecprj.com