More than 100 delegates experience PET expertise
"A successful event where extensive expertise was communicated in concentrated form while focusing on groundbreaking innovations which provide real added value" was the unanimous verdict of those who took part in the KHS PET event. More than 100 international KHS customers visited the pioneering event which started with a series of talks and finished with a tour of the new production shop at the KHS Corpoplast plant in Hamburg, Germany.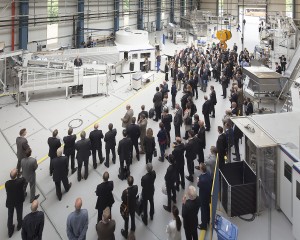 Prof. Dr.-Ing. Matthias Niemeyer, CEO/CTO of KHS GmbH, said, "As a technological leader whose vision is to be first choice in technology and service we believe it's very important to keep up a continuous dialog with our customers, enabling us to always gear our new developments to the requirements of the industry.
KHS events are an excellent opportunity for this, creating a win-win situation for both us and our customers. At events like these we provide information on how specific competitive advantages can be achieved by applying new technologies and learn from our guests what the additional requirements for the future are."
This is a procedure which Toshihiro Ueki, general manager of Shonan Plant Kirin Beverage Company Limited, and Thomas Reise, technical director of Hansa-Heemann AG, emphasized when talking about their experience with KHS. They reported on many years of successful cooperation with KHS, on outstanding service, and on the continuous exchange of information with their trusted supplier.
At the same time they were highly impressed with the latest generation of stretch blow molding machines, the InnoPET Blomax Series IV. Compared with the previous generation the new model saves up to 30% in blowing air, up to 43% in electrical power and up to 49% in cooling power, results which have been confirmed by the TÜV SÜD Energy-efficient System Technology certificate.
The latest innovations to be highlighted during the PET event were a new ultraclean concept with an integral mini hygiene housing, the direct digital printing of PET bottles, and the newly developed FreshSafe PET marketing concept which documents the advantages of further improved Plasmax coating technology from the consumer's point of view. The event also focused on the KHS Service department with its wide range of services from the fast supply of spare parts to individually tailored maintenance contracts.
The newly developed ultraclean technology monoblocks the InnoPET Blomax Series IV stretch blow molder with the filler/capper section which is incorporated into what's known as a mini hygiene housing. The advantages of this concept are the system's small footprint, improved sustainability and reduced costs while providing maximum microbiological safety.
Instead of conventional roll-fed labeling, the innovative Innoprint generation of labeling machines makes it possible to print digital images directly onto PET bottles. Here, plastic bottles are printed with food-grade UV inks which ensure a brilliant color image. One particular advantage of direct printing is the rapid response this enables. Take a sporting event, for example; among other things, direct printing allows bottlers to offer the consumer a filled PET bottle bearing a picture of the winning team shortly after the end of an event. The required print image can be transmitted directly from the computer to the control unit of the labeling machine. This enables international beverage companies to send print files to all of their plants which can then immediately start printing at the same time – wherever they are in the world.
How can the advantages of PET bottles with an internal Plasmax coating (an ultrathin film of SiOx or pure glass) be communicated to the end user? KHS Plasmax went into this question in great detail, commissioning a consumer study on the subject. The result was that consumers showed great interest in drinking out of a PET bottle which protects the product with an internal coating made of pure glass. Seventy-six percent of those surveyed would choose this option, they said, and believe it's a good idea to decorate bottles like these with a FreshSafe logo which stands for quality protection, a long shelf life, a fresh taste and 100% recyclability. It's interesting to note that nearly all of those who took part in the study and were impressed by the new Plasmax technology were prepared to pay more than usual for a beverage in the FreshSafe PET bottle.
Following the highly interesting presentations the next item on the agenda was a tour of the KHS Hamburg plant. Of particular interest here was the new production shop with an additional assembly area of 2,300 m² which was erected at the end of 2012. The plant therefore now has about 11,000 m² of assembly space, around 3,500 m² for logistics use and an office area of approximately 6,500 m². As a result of the global success of the InnoPET Blomax Series IV generation of stretch blow molders KHS plans to increase the assembly space by a further 2,300 m² for 2015.
Thomas Karell, managing director of KHS Corpoplast GmbH, says, "There are now over 1,500 KHS Corpoplast stretch blow molders in use around the world, including approximately 220 InnoPET Blomax Series IV stretch blow molding machines. This is proof that our new generation of plant technology is being very well received. Everything's set for further growth."