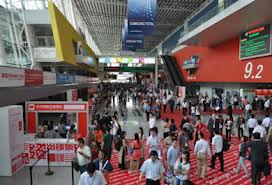 BEIJING : ChinaPlas-2013,one of the widely recommended trade fairs in the whole world showcasing the entire spectrum of rubber and plastic raw materials, is scheduled to be held in China from May 20 to 23. The exhibition is considered as Asia's largest rubber and plastics trade fair and is the only event in China to be endorsed by the EUROMAP (European Committee of Machinery Manufacturers for the Plastics & Rubber Industries).The theme set for this year's show is "The Future is in Plastics and Rubber".
The 27th International exhibition on Plastics and Rubber industries will unveil the latest technological trends in the industry and propose the future applications of plastics and rubber.The four day event will be held from May 20th to 23rd (09:30 to 17:00) at China Import and Export Fair Complex, Pazhou, Guangzhou, PR China. The fair hosted by China Foreign Trade Guangzhou Exhibition General Corporation is supported by all prominent associations in China and also by the Association of Japan Plastics Machinery.
ChinaPlas has been certified as a "UFI Approved Event" by the Global Association of the Exhibition Industry (UFI), an internationally-recognized representative body of the international trade fair sector. It is estimated that the ChinaPlas-2013 would attract larger number of exhibitors and visitors than the previous year. A total of 2,729 exhibitors participated in the 2012 event. The organizers are anticipating not less than 28 exhibitors this year. The number of participants is also estimated to go up from 110,000 to at least 115,000. Around 36 countries and regions are expected to participate in the event.
Source: http://www.scrapmonster.com/news/international-exhibition-on-plastics-and-rubber-industries-to-be-held-in-may/1/8479