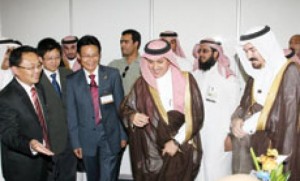 WAIDHOFEN, Austria – From April 16 to 17, 2013, Husky Injection Molding Systems hosted its next stop on the Husky World Tour 2013 – a two-day Specialty Closures Conference at its Technical Center in Waidhofen, Austria. Business leaders from throughout the packaging industry gathered from more than 20 different countries to learn about the latest trends and innovations in specialty closures manufacturing."We were excited to see such a diverse, global group of people gather together for the purpose of collaborating and exchanging ideas," said François Styga, Husky's General Manager, Husky-KTW.
"Our specialty closures business is off to a record start in 2013, which has been made possible over the past year by the work of the combined Husky team along with our customers. This solid foundation will allow us to continue to develop solutions that will help our customers become more competitive and profitable."The conference showcased Husky's industry-leading technology tailored specifically for specialty closures manufacturing. Highlighting major industry trends and challenges, the event included tours, case studies, demonstrations, one-on-one discussions and presentations from both Husky and industry experts.
Presentation topics covered advanced mold technologies, the value of complete specialty closure systems, as well as a presentation from guest speaker Joseph Everard, Senior Manager, Mold Management from Unilever.A central product demonstration included Husky's unique EASYcube™ mold technology, which is designed to provide the best platform for molding multi-material closures. As a standalone mold, EASYcube™ is uniquely designed to function in standard machines. This makes it a viable solution for new programs, as well as for aftermarket tooling programs to leverage existing assets.
When developed as part of a complete Husky system, EASYcube™ brings the added benefits of improved cycle times, fast mold changeover and installation for reduced downtime and simplified operation and data management through integrated mold and machine controls."I thought it was a very useful investment in time to attend the event. The event itself was well organised and the accessibility of experts from both Husky and other attendees resulted in a very interesting, informative and enjoyable few days," said David Head, Senior Purchasing Manager, Packaging for PZ Cussons in Great Britain.
"The networking opportunities were excellent and I have come away with a much better understanding of what Husky can provide in terms of new innovations on tooling, the benefits of having a strong cross-functional team involved at the start of a project and the value in having Husky included at the front-end."
The Husky World Tour 2013 is a series of global customer events taking place throughout the year in the Americas, Europe, the Middle East and Asia Pacific. With multiple local events spanning the globe, the tour gives current and prospective customers more direct access to Husky's latest technologies at a local level while providing targeted solutions to help customers reduce variability, improve part cost and increase productivity. The next event is a South American Beverage Packaging Conference taking place in São Paolo, Brazil on May 14, 2013.Source: www.husky.co