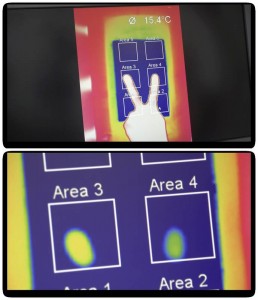 Frechen/Germany, February 2014 – Based on naturally occurring and synthetic minerals such as quartz, wollastonite, kaolin or mica, HPF The Mineral Engineers' comprehensive range of high-performance fillers can impart amazing functional or optical properties to plastics. At JEC 2014 in Paris, this division of the Quarzwerke Group shows the latest additions to their portfolio, including Silatherm® to increase the thermal conductivity of thermoplastics and thermosetting plastics, the after-glowing Silglow® filler, and Microspar®, a filler for films and dental applications.
Silatherm® improves the thermal conductivity of compounds without downgrading their electric insulating properties. Facing an ongoing miniaturization, typical applications include electronic devices, containing an ever increasing number of components with a high energy density. Silatherm® helps to ensure their long-term reliability by efficiently dissipating the resulting heat.
Featuring a special inorganic coating of very high mechanical and thermal stability, the Silglow® filler absorbs daytime sunlight or light from any other source and emits it in the dark. Polymers as well as colors and lacquers thus receive a long-term luminescence. Typical applications of Silglow® include creative designs and security technology.
Microspar® is a feldspar powder, which improves the anti-blocking properties of films, without significantly affecting their optical properties. Thanks to its high UV transmission, this filler is also suitable for agricultural film production. Finely ground grades of Microspar® were especially developed for dental applications.
In close cooperation with their customers, the interdisciplinary teams of HPF The Mineral Engineers develop efficiency improving solutions for the entire area of filled plastics. With its experienced employees, HPF provides short-term and flexible answers to new issues and products. At the refining plant, units of various sizes are available for the processing of mineral raw materials. Minerals ranging from a few millimeters down to a few hundred nanometers can there be crushed and surface modified.
Competence in filler technology
Quarzwerke Group is an internationally active, family-owned enterprise with a tradition going back more than 125 years and an outstanding market position in the field of extracting and conditioning diverse mineral raw materials. Its HPF The Mineral Engineers division has been dedicated for many years to the development of high-performance fillers based on raw materials such as quartz, cristobalite, fused silica, wollastonite, kaolin, mica, anhydrite, feldspar and talc, to name but a  few. In joint enterprise with their clients, HPF The Mineral Engineers work continuously on further developments of functional fillers for polymer applications.