Halver/Germany, November 2013 – Systems supplier Mayweg Kunststofftechnik can offer a beneficial combination of leading-edge plastics technologies, encompassing all common processes and materials, in-house mould construction as the foundation for a tight interlocking of design and production, and integrated module assembly right up to packaging and shipment, from which customers can benefit.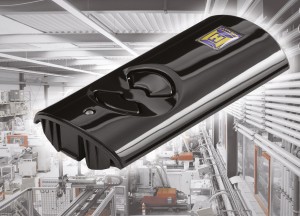 Cost-efficient multi-component injection moulding is one of the specialities in which Mayweg has accumulated a wealth of expertise. One recent application example is an automotive fuel filler pipe, which combines high resistance to fuels with superior dimensional stability. Mayweg has achieved this by using polyethylene in areas of direct fuel contact, and glass-fibre reinforced polyamide (PA), providing the required supporting function. The PA is injected into the PE, forcing the latter against the walls of the mould. The component is produced on a 4-cavity hot-runner mould.
Further, Mayweg's future-oriented achievements include the use of partial inductive mould heating in high volume production. This process involves exactly controlling and delaying the cooling of the moulded component in relevant areas of the mould. This enables maximum precision in the creation of the surfaces of the moulded part without any significant increase in cycle times, resulting in superior high-gloss or mat surfaces without visible sink marks, flow lines, streaks or gate marks.
Development manager Andreas Meyer says: "In close partnership with our customers, we tackle challenging tasks, for example in the development of technical components and modules, plastic-metal hybrid parts, or components designed to replace metal parts or offering specific surface properties. Cost efficiency and highest precision are at the focus of all our activities – objectives, which we are able to achieve through our longstanding experience in the area of materials and processing technologies, our advanced machinery, short setup times, and not least, through close cooperation with research institutes."
Established more than 50 years ago, Mayweg GmbH (www.mayweg-gmbh.de), based in Halver/Germany, provides extensive experience in the area of high-end plastics processing applications, independent mould construction and in-house module assembly. As a single source systems supplier with 110 employees, Mayweg uses 52 injection moulding machines to produce high-end plastic products. Its broad customer base includes a variety of customers, predominantly from the electrical and electronics industry, amongst them renowned companies such as Hörmann KG (enclosures for gate systems), Albrecht Jung (electronic systems) or TRILUX (lamp bezels).
Source: www.konsens.de/44.html?&L=1&tx_ttnews%5Btt_news%5D=1035&cHash=c2243675983609f44b324263ef32b147