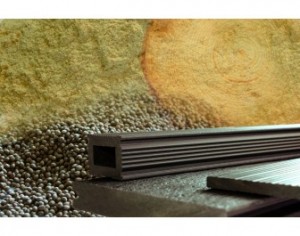 Pinuform, a manufacturer of Wood Plastic Composite (WPC) in Germany, is increasing its production capacity by investing in WPC profile extrusion systems from KraussMaffei Berstorff.
The extrusion lines, which recently went into operation at the Leipzig plant, Germany, comprise three WPC twin screw extruders in different sizes in addition to a twin screw extruder for compounding wood flour pellets, the German machinery supplier announced. "Our customer is convinced of the merits of our systems, as it uses our same-direction twin screw extruder to compound wood flour and polypropylene (PP) based pellets, which, in the next stage, are extruded on our opposite-direction twin screw extruders to make the final product," explains Michael Finkenzeller, Product Manager with responsibility for WPC Extrusion at KraussMaffei Berstorff.
"Firstly, we use it to recycle the wood chips from our planing mill in an eco-friendly way and, secondly, we use it to produce WPC decking profiles of outstanding quality, which are in demand by our customers. Another side benefit is that we are able to market the pellets separately," enthuses Holger Sieck, Managing Director of Pinuform. KraussMaffei Berstorff says its same-direction twin screw extruder is particularly suited to cost-effective direct metering of components, since the residual moisture content (up to a maximum of 12%) can be optimally discharged through venting ports.
Meanwhile, the opposite-direction parallel twin screw extruder, equipped with a powerful high-torque drive, ensures high output levels. The processing unit, which features special wear protection, is suited to the extrusion of natural fiber reinforced plastics and, therefore, ensures long machine service life.
Source:http://www.adsalecprj.com/Publicity/MarketNews/lang-eng/article-67002656/Article.aspx