Willich, September 2014 – The bioplastics specialist FKuR Kunststoff GmbH and Helian Polymers, a leading provider of 3D printing filaments, are cooperating on the development of novel PLA blends for 3D printing. The initial results and applications of this collaboration will be shown at this year's Composites Europe exhibition (booth A36, hall 8b). The highlight at the booth will be live 3D printing of natural fiber reinforced bioplastics.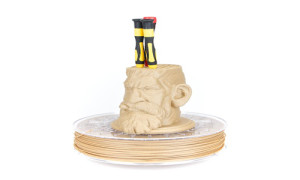 Bioplastics such as PLA are particularly suitable for the FDM process (Fused Deposition Modeling), as they have a relatively narrow melt  window at low temperatures. Furthermore, the low processing temperature results in easier control of the printer and simplifies the regulation of the printing process. When compared to conventional ABS, which is generally used currently, the printing accuracy is also improved. In addition, when ABS is processed, styrene vapours could be released with resulting, and as yet unknown, health consequences. Here, the bioplastic PLA offers an alternative which is not hazardous to health.
However, a significant disadvantage of unmodified PLA is its brittleness and low impact strength. As a consequence the quality of the finished product is adversely affected. With its new generation of PLA based filament formulations, the cooperation partners satisfy the requirement for an optimized material quality along with improved processing. With their unique and comprehensive product portfolio, both development partners will steadily expand the applications andmarkets for PLA in 3D printing.
PRESS RELEASE
Colorfabb (www.colorfabb.com) are able to supply filaments in a wide variety of colors. Their product range includes the recently developed, design,  materials reinforced with natural fibers namely 'woodFill Fine'and 'BambooFill'.
These two wood fiber reinforced grades ('woodFill Fine' and the bamboo fiber reinforced grade 'BambooFill') enable the manufacture  of components with a unique wood appearance and distinctive feel. Compared to conventional wood, there are virtually no limits to design  freedom. This freedom of design enables designers and architects, as well as private users, to work with new creative options.
Bioplastics:
Bioplastics are a unique class of materials which are based on renewable resources and/or enable the biodegradation of products made from these polymers.
About FKuR: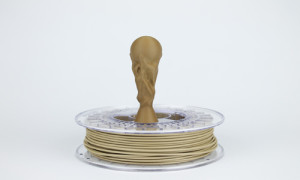 FKuR is one of the leading producers of Bioplastic-Compounds for flexible packaging solutions and technical applications. FKuR's range of products includes the product lines Bio-Flex®, Biograde®, Fibrolon®, Terralene® as well as the distribution of a variety of biobased products.
About HelianPolymers:
HelianPolymers draws on years of experience in the field of PLA-based color concentrates and processing of PLA and PHA. In addition, HelianPolymers imports high quality PHA polymers from China. 2012 HelianPolymers invested in an extrusion line to translate this knowledge into products. The following year, further investment in terms of process optimization, and formulation development were made. Then the ColorFabb mark was put on the market in April 2013 and has quickly established itself in the world of 3D printing. A year later (April 2014) ColorFabb tripled the production capacity and further specialized in high quality filaments and innovations for 3D printing.