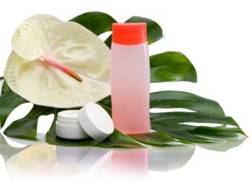 Willich, August 2012 – Bioplastics specialist, FKuR Kunststoff GmbH, presents a wide variety of biodegradable, biobased and natural fibre reinforced plastics under this slogan at the Fakuma 2012 (Hall 5, Booth A5-5126). This time the focus is on the 'Green PE', which FKuR as the exclusive European distributor of Braskem S.A. will be presenting for the first time presenting at the Fakuma. In addition, optimised compounds based on 'Green PE' for injection moulding will be presented under the brand name Terralene®.
In contrast to traditional polyethylene, the polyethylene used for Braskem's Green PE is made from Brazilian sugarcane, not crude oil. By using this renewable raw material, each production of one ton of 'Green PE' captures up to 2.4 tons of CO₂ from the atmosphere and therefore helps to reduce greenhouse gas emissions. In addition, 'Green PE' and Terralene® are 100% compatible with regular polyethylene and show identical properties. All materials can also be utilized in existing recycling streams.
FKuR will also be presenting the well-established biodegradable product lines Bio-Flex® (for flexible applications) and Biograde® (for injection moulding applications). The latest innovation in the development portfolio is the cellulose-based material Biograde® C 6509 CL, which is characterised by high transparency, good colouring and excellent flexibility. In addition to the biodegradability, this type offers a very smooth and shiny surface, which is very attractive especially for cosmetic packaging.