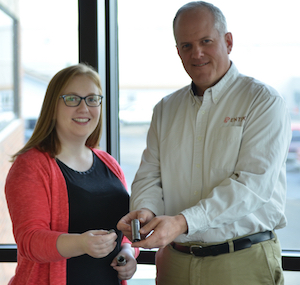 Entek (Lebanon, OR), a manufacturer of production extrusion systems and components, has been awarded a U.S. patent for its self-aligning shafts and couplings. U.S. patent 9,573,313 B2 was awarded to Entek on Feb. 21, 2017, for its "Extruder Screw Shaft Alignment Apparatus and Method."
Entek employees Craig Benjamin and Melissa Jensen-Morgan, along with Dean Elliott, a former Entek employee now with Interfacial Consultants LLC, are credited as the inventors of the concept.
Originally introduced by Entek for use on its QC 3 twin-screw extruders in 2015, the self-aligning concept was designed to ensure that the installation of the screw shafts into the couplings was done easily and correctly.
Correct alignment is essential to maintaining the correct orientation of the parts in the twin-screw extruder for optimal performance, said Entek in a press release. Prior to this invention, the task was time-consuming and prone to error.
"The traditional method of installing extruder shafts is tedious, often resulting in repeated trial and error attempts before the shafts and couplings are aligned properly," said Benjamin. "This invention forces mating shafts and couplings to align automatically as they are installed into the machine.
When the shafts are installed there is no question about alignment, as there is only one way for the shafts and couplings to go together," explained Benjamin.The self-aligning coupling concept is available on all screw shafts and couplings produced by Entek for its 27-, 33-, 43- and 53-mm QC 3 twin-screw extruders.
Entek originally introduced the QC 3 concept, which stands for quick change, quick clean and quality control, on the 43-mm co-rotating twin-screw extruder that it launched at NPE 2015. Since then it has expanded the QC3 product line as well as auxiliary equipment including the QC3 strand die and combination vacuum stuffer/side feeder unit.
source-:https://www.plasticstoday.com/extrusion-pipe-profile/extrusion-systems-maker-entek-receives-patent-self-aligning-coupling-concept/59916157256897