According to ChemOrbis, the downward trend has gained speed across the European PS markets where prices are seen posting three-digit decreases for another month, weighed down by bearish upstream costs. Styrene contracts settled with sharp decreases of €290/ton from December due to plunging crude prices and butadiene contracts also settled down €100/ton for January.
Following the monomer settlements, the impact of the bearish energy markets continued to be felt on spot styrene prices as Brent crude futures dropped below $50/barrel during intraday trading on January 12. Spot styrene prices on an FOB NWE basis slumped by $140/ton on the week and broke below the $800/ton threshold on January 9. As a result, PS buyers are taking a waiting stance for now thinking that further decreases are likely even though prices have posted even sharper decreases compared to December.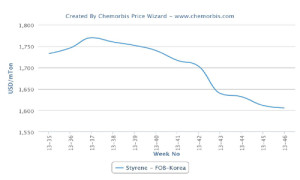 A South European producer announced decreases of €170/ton on their January PS prices in Italy. A producer source said, "Demand is good for now. We are not planning to concede to the entire monomer drop of €290/ton, but prices may decline slightly further later in the month and decreases may reach €200/ton at most."
Initial spot prices for West European PS emerged with larger decreases of €200/ton from December in Italy. A distributor commented, "We are not receiving price inquiries these days as buyers are taking a waiting stance due to rumors of further reductions in February." Indeed, buyers are not rushing to make new purchases despite the three digit drops, thinking that the PS market still has room to move lower.
A packaging producer reported, "We received initial January PS offers €200/ton below December, but we expect decreases of at least €250/ton to pass on deals. We are pushing to reduce the gap between GPPS and HIPS citing lower butadiene costs, but producers are maintaining the premium of HIPS over GPPS at around €80-90/ton."
Similar decreases are being reported for PS in West Europe where spot prices above €1400/ton disappeared this week. A distributor in Germany reported lowering their PS prices by €200/ton at the beginning of January, but did not exclude the possibility of further reductions later in the month. The seller commented, "Buyers are sticking to the sidelines due to retreating crude oil prices. We think that the upstream markets might remain bearish in the medium term." Another distributor in France said, "We reduced our PS offers by €200/ton, but we are still facing difficulty in concluding deals. The market is calm as buyers expect to see additional discounts of €50/ton in the upcoming weeks."
According to ChemOrbis, a German buyer confirmed that a West European PS producer announced decreases of €200/ton for January, but stated that he is planning to negotiate to obtain further discounts pointing to the bearish styrene market. A compounder added, "We are taking a wait and see stance for now assuming that PS prices might decline further in February. We will track the upstream markets and decide whether to buy some volumes in the second half of January or postpone our purchases to February."