Two Dutch universities team up with AkzoNobel in an attempt to smash the world speed record for a human-powered vehicle.
The Human Power Team from Delft Technical University and the Free University of Amsterdam plan to exceed the current record of 133km/h with their VeloX3 recumbent bicycle, which features an ultra-light coating developed by Akzonobel's Sikkens brand.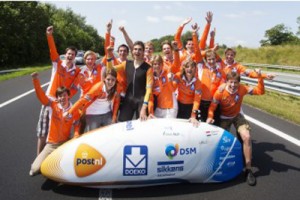 Sikkens has partnered with the Human Power Team to supply an innovative coating which is said to improve the VeloX3's air resistance by 14%. Its total air resistance can now be compared to that of a beer mat in an airstream, according to the company.
As said, Formula 1 team Vodafone McLaren Mercedes is also using Sikkens to increase aerodynamic performance and track speed.
"We regard this as a unique opportunity to share our knowledge and expertise with these students, who have already been working very hard on this fantastic project for almost a year," said Marc Michelsen, Communications & Sustainability Director at AkzoNobel's Automotive and Aerospace Coatings business.
The world record attempt will take place in the Nevada desert later this year, when Delft students will also be entering the World Solar Challenge with the Nuna7, another vehicle developed with the help of experts from Sikkens.
Source:  www.adsalecprj.com/Publicity/MarketNews/lang-eng/article-67007509/Article.aspx