All units furnished with 7-in. high-resolution touchscreen PLC.
Novatec Inc. Baltimore is now making available a 7-in. high-resolution color touchscreen PLC a standard feature on its NovaWheel desiccant wheel dryers. This includes sizes from 25 lb/hr through 5000 lb/hr.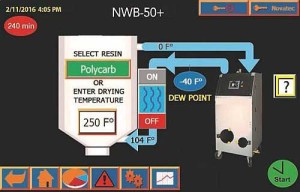 "We have seen such a positive response from our customers since we started using these PLC's, with advanced features on our larger dryers, that it is just logical to include them on all of our wheel dryers–even the smallest," states Mark Haynie, Novatec's dryer product manager.
The advanced features include things like an installation check list, a customer-settable maintenance schedule, and a resin menu where processors can choose from a pre-loaded material list or store their own settings. Easy-to-understand color touch screens guide users through auto-start/stop, and provide a troubleshooting guide with clear written messages…not confusing codes that have to be looked up in a manual.
In addition, Novatec NovaWheel dryers include energy-saving features like intelligent regeneration and automatic monitoring/alarm of filter condition.
All models from 200 lb./hr. and up are also available in central dryer configurations.
Website:                                      www.ptonline.com