Montanay/Paris, 19 November 2012 – Paris is not only the first choice when it comes to fashion. It is currently a showplace for packaging that is perfectly tailored to its content. Customized packaging and attention to detail are the main focus at this year's Salon de l'Emballage for the Weidenhammer Packaging Group (WPG) and its French subsidiary Neuvibox.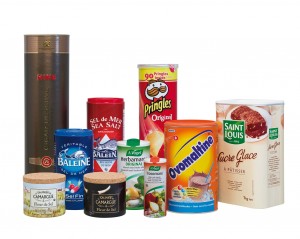 For the first time in France, Europe's leading manufacturer of durable, attractively labelled packaging is presenting its collection of modern composite cans along with its portfolio of high-quality plastic packaging. WPG packaging solutions come in a wide variety of shapes, designs and materials with common denominators, including maximum consumer convenience, differentiation options on the shelf, and high-quality labelling.
When the Salon de l'Emballage opens in Paris from 19 to 22 November, all of the key packaging industry players will be on hand to present their latest developments to an international audience. The salon is also a fixed date on the exhibition calendar for the Weidenhammer Packaging Group subsidiary Neuvibox. "The event offers us a perfect opportunity to show customers and business associates our wide range of packaging solutions and to introduce key innovations", explains Phillipe Creux, Sales Director for Weidenhammer/Neuvibox in France. "The salon is not only important for the French market.
This is also where we meet many of our customers from Switzerland, Spain, Italy, the Benelux countries and Germany. All of these markets are supplied by our factory in Montanay". Along with composite cans and luxury tubes, packaging produced by Weidenhammer Plastic Packaging (WPP), the plastics division of the Weidenhammer Packaging Group, will also be presented this year for the first time. "We are very much looking forward to introducing this part of our portfolio to our customers France, who haven't seen it before", says Creux. "We see a great potential for our high-quality plastic packaging in this region, especially in the dairy products sector".
Ingenious shapes and designs
This potential is partly a result of the special features available on the plastic trays produced by the WPP In-Mould Labelling (IML) process. Detailed images integrated into the smallest space and a wide variety of shape and design options are available to ensure a truly unique appearance at the point-of-sale. In the IML process, plastic containers are injection moulded and labelled in a single step. This gives the packaging a very high-quality appearance and is demonstrated by the recently developed plastic cup for "Bambini Mozzarella" balls made by brand manufacturer Goldsteig. The new container was introduced in August in German supermarkets.
Appetizing design is combined with an exceptional package shape offered exclusively by Weidenhammer. The cup has a soft, rounded base that is pleasant to the touch and attractive to consumers. "We developed the integrated IML process and made it possible for the first time to seamlessly form the side and base labels without edges in a single process. This solution is only available from Weidenhammer", explains Thomas Strieder, Head of International Sales.
Innovation is the key, not only in terms of design, but also the development of pioneering packaging solutions for the food market. At the trade fair in Paris, the Weidenhammer Packaging Group is presenting PermaSafe, the world's first plastic packaging for sterilized and pasteurized foods. Up until now, these products have been primarily packaged in tinplate or glass. PermaSafe is as robust as a conventional metal can, but much easier to handle, lighter, and more cost effective. What's more, the new plastic barrier packaging, which is practically impermeable to oxygen and moisture, offers new options in package form and design. This makes it a viable alternative to conventional metal or glass packaging for perishable products. A variety of products are already sold in PermaSafe packaging in Germany. The next step is to continue this success with the "reinvention of the can" in France.
Attractive composite cans with added benefits
Although the composite cans from WPG Neuvibox are not new on the market, they attract attention on the supermarket shelf. A focus at this year's salon is on gastight composite packaging for foods – especially for snacks and powdered milk. The new peel-off tops are airtight to ensure product freshness. These closures are similar to those found on conventional metal cans, which means consumers already know how to use them. "We produce composite cans with peel-off tops at our plant in Montanay and are delighted by the new options they offer for highly-sensitive foods", says Creux. "Composite cans with peel-off tops offer excellent product protection along with maximum convenience for consumers".
Innovative closures and special shaker tops make composite cans ideal for packaging a variety of products. For example, a new hinged lid design makes the rectangular composite can for "Goody Cao" instant cocoa, a proprietary brand distributed by a major German retail chain, especially convenient. Permanently attached to the body of the can, the lid can be opened and closed with one hand.
Eye-catching and practical
In addition to full-surface labelling, composite cans attract attention on the shelf with a variety of sizes and shapes. Complementing the standard round and elliptical shapes, WPG recently introduced the composite OvalCan. "The unique shape stands out on the shelf and offers plenty of space for product descriptions and marketing messages", explains Thomas Strieder. "Our packaging helps differentiate products from competitors and supports optimal brand management".
The same applies to the luxury tubes produced exclusively for WPG at the Neuvibox plant. This premium quality packaging is ideal for name brand liquor products and perfumes. Customers can choose from a practically unlimited variety of elegant materials and material combinations ranging from full surface laminations in high quality paper and exclusive banderoles in cloth or imitation suede, to embossed metal lids and bases. A recent example is the luxury tube produced by Neuvibox for Champagne Canard Duchesne. This packaging is made from premium quality paper with embossed hot foil gold.