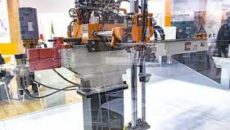 German materials giant Covestro will be showcasing the prototype of a new design for a steering wheel cover using new DirectCoating technology.
The coated component is produced in a two-component mould using a two-stage process in an injection moulding machine . The plastic substrate is then transferred to a second cavity that is one coating layer thicker.
The solvent-free coating system is then injected into the mould via a Rim (reaction injection moulding) mixing head to create a polyurethane-coated component.
"Compared with the conventional combination of injection moulding and subsequent spray coating, the integrated process offers great potential for reducing logistics effort, energy consumption and space," said Johannes Scherer, head of Covestro's DirectCoating/DirectSkinning programme.
The company has developed Bayblend and Makroblend polycarbonate blends as well as Desmodur and Desmophen polyurethane coating raw materials for the DirectCoating technology.
Covestro is also looking to use DirectCoating technology with printed electronics.
Website:www.prw.com