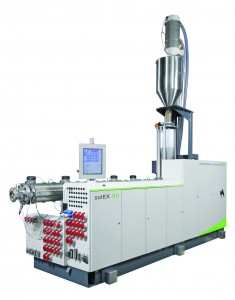 battenfeld-cincinnati is a world leader in extrusion technol-ogy.It was formed in 2010 through merging the successful brands Battenfeld Extrusionstechnik and Cincinnati Extru-sion. This year, battenfeld-cincinnati will introduce batten-feld-cincinnati do Brasil with its local sales and service team and present its energy-efficient,high-performance machines and equipment at Feiplastic, stand B2.
battenfeld-cincinnati's roots are in Europe, but the company has established strong, personal connections with its customers through its extensive worldwide sales and service network.To further improve its communication with and service for the Brazilian market, battenfeld-cincinnati has established a local company, battenfeld-cincinnati do Brasil. The office is located in Jundiai, with Mr. Cássio Saltori as General Manager, Mr. Angelo Batsef as area sales manager and Mr. Federico Hinrichsen as service technician. The team will be introduced to the market at the Feiplastic fair.
New machine highlights for pipe and profile extrusion
All battenfeld-cincinnati's extruders are easy to handle and robust, with energy-efficient AC motors for low maintenance and screw geometries optimized for each application. The solEX series of powerful single-screw extruders are designed for high-performance machines to produced HD-PE and PP pipes. Outputs range from 240 to 2,200 kg/h, depending on application and material.
The twinEX series of parallel twin-screw extruders has a 34D processing length and is highly flexible, with an excellent price/performance ratio. In pipe extrusion, outputs between 200 and 1,700 kg/h for solid PVC, M-PVC, O-PVC and 3-layer PVC pipes are standard values, for profile extrusion the outputs range from 120 to 1,000 kg/h.
battenfeld-cincinnati is a pioneer in WPC/NFC (wood plastic com-posite/natural fiber composite) extrusion. It offers equipment for many applications, including cost-efficient co-extrusion solutions. The WPC extruder series fiberEX covers an output range from 15 to 1,000 kg/h.
Energy and cost savings for pipe extrusion
battenfeld-cincinnati supplies equipment for producing a wide range of pipes. Complete extrusion lines are available for standard sizes, but also for the largest applications on the market – PE pipe with diameters of up to 2,500 mm and PVC pipe with diameters of up to 1,300 mm. With the Green Pipe concept, battenfeld-cincinnati offers three solutions for saving material and energy. Moreover, the output of existing lines can be increased or the line length shortened.
The Green Pipe concept consists of two pipe dies and a downstream solution for customers to choose from: with helix VSI-T pipe dies with efficient air cooling (EAC) or helix KryoS pipe dies, the length of the complete line can be reduced by 30 to 45%. The Green Pipe downstream components can reduce the energy consumption of the cooling section by almost 50% and cooling water consumption by almost 90%.
Optimized equipment for excellent sheet quality
battenfeld-cincinnati also has extensive experience with machines for the production of multi-layer sheet for packaging applications. On offer are a single-screw extruder series with outputs of up to 1,500 kg/h for PP and up to 2,000 kg/h for PS, with matching downstream components. The Multi-Touch roll stack is a new, in-novative product. It meets the requirements for perfect transpa-rency and optimal mechanical values as well as low shrinkage. Last year, battenfeld-cincinnati again sold a number of extruders and lines for PVC pelletizing. The screws are optimized for this ap-plication to ensure best results.
About battenfeld-cincinnati:
The battenfeld-cincinnati group with production facilities in Bad Oeynhausen and Kempen (Germany), Vienna (Austria), Shunde (China) and McPherson (USA) is a leading manufacturer of energy-efficient, high-performance extruders and complete extrusion lines according to customers' specifications. The company is organized in three product-oriented Divisions across all manufacturing sites: Infrastructure (all single screw applications pipe), Construction (all twin screw applications) and Packaging (non-PVC film and sheet, pelletizing, calendering and lamination equipment). battenfeld-cincinnati's customers benefit from the group's extensive global sales and service network. www.battenfeld-cincinnati.com