Last week, players had been reporting that China's PP market was showing signs of stabilizing after an extended downward turn, pointing to steady energy costs and limited supplies from domestic producers. At the start of this week, however, players are questioning the sustainability of the recent stabilizing trend, commenting that demand has not really improved while the recent slide in crude oil prices is putting some renewed downward pressure on the market.
As reported on www.ChemOrbis.com, crude oil futures opened the week on a softening note after the Organization of Petroleum Exporting Countries (OPEC) elected not to take action to stabilize oil prices during their December 4 meeting in Vienna. Crude oil futures on the NYMEX sank below $38/barrel shortly after the announcement while Brent crude also briefly moved below $40/barrel during intraday trading on December 8.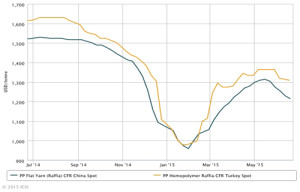 OPEC production has remained persistently above the group's most recent production target of 30 million barrels per day (bpd) for the past several months while Iran has announced that it would not agree to any production cuts given their hopes of expanding output and market share following the anticipated easing of Western sanctions. Saudi Arabia has also voiced unwillingness to cut production unless major non-OPEC oil producing countries also join the stabilization effort.
A distributor based in southern China predicted that domestic PP prices would see further reductions owing to the drop in energy prices. "May PP futures on the Dalian Commodity Exchange witnessed a daily drop of CNY284/ton ($44/ton) on Monday and we believe that physical market prices will decline until they reach levels close to those currently being traded on the futures market. Trading remains sluggish as most converters are still not purchasing beyond their immediate needs," the distributor stated.
A trader offering Indian raffia at the low end of the overall import market range commented, "We are concerned that the weakness in crude oil costs will be reflected onto naphtha prices as well. Demand is not very strong these days and consumption may be hampered in the coming month as many factories will shut down ahead of the Chinese New Year holidays." Another trader offering Indian and Saudi Arabian raffia added, "We are maintaining our prices for now, but we are feeling uncertain about the market outlook now that NYMEX crude futures have fallen below $40/barrel."
On the other hand, some players argue that prices will continue their stable to firming trend as supply and demand have come back into balance, according to ChemOrbis. "Sinopec and CNPC have been successful at paring down their stock levels and we believe that this will support firmer prices ahead of the upcoming holidays. In addition, local prices remain competitive relative to imports and this will help domestic sellers remain free of stock pressure," a distributor stated. Another distributor added, "Supply is more balanced with demand now as two new coal based projects that were due to start up soon have been postponed. We think that PP prices are near the bottom and that some gradual recovery will be possible in the weeks leading up to the holidays."