WEST CONSHOHOCKEN, PA   USA – (April 29, 2014) – Ensuring a fun user experience is essential for the designers of vehicles that turn the outdoors into a personal playground. Boston and Toronto-based BPG Werks, creators of the innovative all-terrain dual tracked vehicle (DTV) called the Shredder, have harnessed the exceptional durability and wear capabilities of a high-performance polymer from Victrex to construct a robust and efficient overmolded steel drive shaft segment gear.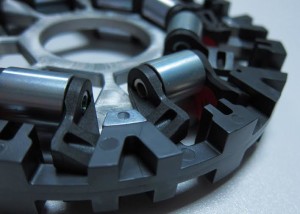 Replacing a coated brass gear, which did not offer the required lifetime, the high performance thermoplastic delivers a more durable, more reliable transmission solution, with remarkably smooth torque and acceleration response and offers lower vibration levels that add to the driving experience.
Working in conjunction with China Array Plastics of Pittsfield, MA, BPG Werks specified VICTREX® WG™ polymer in the Continuously Variable Transmission (CVT) of their Shredder dual tracked vehicle. This wear grade, developed by Victrex contributes to the durability and performance of the transmission.
The Shredder is a powerful all-terrain vehicle for extreme sports or agricultural or forestry work. Its patented CVT provides quick, reliable acceleration and outstanding torque response. Users can often go from a complete stop to top speed even on steep, uneven terrain or through water, dust and rocky environments. To transfer power from the 13-horsepower, four-stroke engine to the heavy duty rubber tank tracks, the polymer overmolded steel drive segment gear needs to provide solid performance with low vibration and a long lifetime at high RPMs.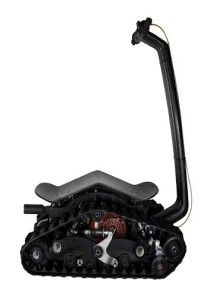 China Array utilizes VICTREX WG polymer for two components in the CVT, sliders and insert keys. Despite exposure to centrifugal and linear forces at high temperatures, the thermoplastic offers a lightweight, durable solution – much to the delight of the driver. "We looked at a couple of other materials, including MoS2 coated bronze. It did not demonstrate the same durability as the wear resistant material from Victrex. With exceptional friction and heat resistance, the VICTREX WG polymer overmold, although being in constant contact with the belt drive, helps to provide stable acceleration and torque characteristics. This is due to the polymer's durability, impact and tensile strength, and low friction coefficient," explained Russell Johnson, President of China Array Plastics.
Lighter in weight and resistant to corrosion, compared to steel, VICTREX WG provides a cushioning effect for low vibration operation. The eight slider mechanisms, produced from the VICTREX WG overmolded sliders and insert keys, are a critical element of the transmission system. Sliding back and forth thousands of times within the transmission, while under load, the thermoplastic offers high wear resistance while maintaining dimensional integrity, resulting in solid synchronization and an exceptional driving and riding experience.
For further information on VICTREX WG polymer, visit www.victrex.com.