Series responds to survey of customers on biggest challenges faced in the plastics industry
(September 2013) – The Dyna-Purge® Division of Shuman Plastics, Inc., Buffalo, NY, has announced a four-part webinar series titled "From the Boardroom to the Shop Floor: Answers to your top questions." As a leading supplier in the plastics industry, Dyna-Purge® recently asked its customers to identify their biggest business challenges.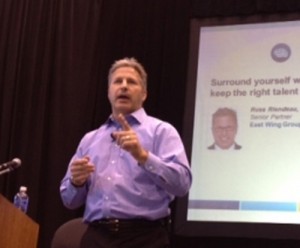 The majority of responses, as stated by Tim Cutler, Vice President of Dyna-Purge, led to four common themes -hiring and retaining the right people; developing talented technicians; avoiding injection molding problems; and solving common problems with purging. The resulting series offers the best and most knowledgeable presenters in their respective categories.
The dynamic series kicked off last week when Dr. Russ Riendeau conducted a live presentation to a large audience at UBM's Plastec Midwest show in Chicago, IL. Dr. Riendeau, co-author of "The CEO's Guide to Talent Acquisition," shared his first-hand knowledge about what it takes to hire and retain the very best talent.
(http://www.plasticstoday.com/articles/how-save-you-thousands-your-next-hire-091120132). Dr. Riendeau's live presentation was then uploaded onto the UL IDES website, where it is now available on demand at no charge to viewers. The presentation titled "Surround Yourself with Success: How to find and keep the right people in the plastics industry!" has already been viewed over 300 times and UL IDES projects by the end of September over 500 plastic processors will have downloaded the presentation.
The series continues with a webinar scheduled for October 2, 2013 from 2 PM EST to 3 PM EST titled "Making Permanent Sustainable Change Through Training: A better way to develop talented techs," presented by Andy Routsis, President of Routsis Training. As one of the leading training companies in the plastics industry, Mr. Routsis' presentation will offer insight into the worldwide shortage of experienced technicians and how sustainable improvements requires a structured training plan.
On November 8, 2013 at 11 AM EST, the third webinar will be presented by the Doctor of Scientific Molding, John Bozzelli. Mr. Bozzelli spent 20 years at Dow, has written well over 100 industry papers and is one of the most respected experts in the injection molding industry. His webinar titled "Proper Planning in Screw/Barrel Design Will Improve Profits: How to avoid the most common injection molding problems before they start" will focus specifically on how to eliminate common problems, such as degradation and lengthy color changes, before they occur.
The series concludes with a fourth webinar on December 4, 2013 at 2 PM EST presented by Nancy Mitchell, the Technical Product Manager at Dyna-Purge. Having worked in the field with numerous processors, Ms. Mitchell will share her extensive experience and explain why she tells Dyna-Purge customers to stop purging and start planning. The webinar titled: "Cleaning up the problem: What to do when experiencing color streaking, degradation and contamination" will offer tremendous insight to how proper planning is the key to success when purging.
Those interested in registering or obtaining additional information on each of the four webinars should visit www.DynaPurge.com/Resources/Webinars.aspx
Dyna-Purge® is the leading supplier of non-chemical, non-abrasive purging compounds formulated for safe and effective cleaning. It is the leading high-performance purging compound and a clear choice over in-house plastic resins, regrinds or other commercial products. The company offers a broad range of grades to service specific purging needs for a variety of equipment including injection molding, extrusion, compounding and blow molding.
Dyna-Purge webinar partner UL IDES is a leading global plastics information management solution that provides a searchable database of Material Datasheets and UL Yellow Cards called Prospector. The company also provides datasheet management services for manufacturers and distributors.