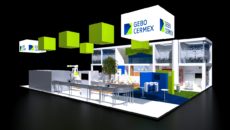 At the international packaging fair, Interpack 2017 (4 – 10 May) in Düsseldorf, Gebo Cermex, world leader in packaging line engineering and material handling, will be demonstrating the latest advanced performance systems and innovative solutions for the beverage, food, home and personal care markets. As a key player in the Factory of the Future movement, the company will again be underlining its commitment to help producers embrace Industry 4.0 opportunities by demonstrating a portfolio completely based on its Agility 4.0™ program. Agility 4.0 encompasses smart machines, system and data intelligence, digital connectivity and powerful simulation tools, all within a philosophy of sustainable production. It brings Smart Factories to life in order to create a world of greater choice and unique consumer experience driven by packaging mass customization and product diversity.
"At Interpack, we will be showing how our approach is able to ensure high performance, cost-effectiveness, high productivity and greater agility for packaging lines of today and tomorrow," explains Marc Aury, President & Managing Director of Gebo Cermex. "Our Agility 4.0 program is based on a unique integration business model and uses high-precision simulation and modelling tools to allow customers to visualize and forecast to keep Operating Expenditure (OPEX) to an absolute minimum. It has helped to globally position us as the right performance partner all along the line lifecycle. We are bringing Smart Factories to life through the five pillars of Agility 4.0: virtual factory; smart factory systems; the connected factory; eco-friendly efficiency; the extended factory."
During the event, Gebo Cermex will be showcasing several innovative, advanced and connected systems helping to build smart, comprehensive solutions. These include:
CareSelect™ – global launch at Interpack 2017 – the universal and modular shaped-bottle infeed system for robotic or traditional case packers, surpassing traditional 'endless screw' collation systems in terms of bottle integrity and protection
Fenceless cobotic version of FlexiLoad® – also exhibited for the very first time – the latest development of the reliable cardboard magazine loading solution, now enhanced via the world's strongest collaborative robot with 35 kg payload
Latest version of the WB46 Wrap Around case packer – featuring a more compact footprint due to an innovative, "on the fly" robotic product-loading station and a brand new, user friendly Human Machine Interface (HMI)
Gebo Cermex will also be presenting many other new solutions developed to make Industry 4.0 opportunities a reality for packaging producers today, in areas such as line design, services and asset optimization. As Gebo Cermex leads the packaging industry in the use of virtual reality, the company's booth will offer great immersive and interactive experiences to visitors. These will particularly demonstrate innovative ways of training operators and maintenance personnel, as well as providing an insight into how the future of packaging lines will look via an engaging virtual tour of a production facility.
Marc Aury continues: "Gebo Cermex always keeps pace with the latest automation, robotic and cobotic technologies thanks to the company's strong partnerships with industry-leading players such as Rockwell Automation, Fanuc, Siemens and Schneider."
However, the most exciting news by Gebo Cermex at Interpack this year – and the most significant – is an announcement concerning the company's new solution in accumulation systems, AQ-Flex.
In a complex industry where know-how is everything, Gebo Cermex is formed from the union of two strong brands: Gebo & Cermex, gathering packaging line engineering experience  across a range of market    segments from beverages and food to pharmaceuticals, via home   and personal care. For over half a century,   our experts have improved the performance of  production and packaging lines in some of the most demanding industries. Today more than 37,000 equipment and system installations bear our signature. We add value to our customers' business in four dimensions, from equipment design and manufacturing to line  engineering, services and line improvement.
Headquartered in the French city of Strasbourg and part of the Sidel Group, Gebo Cermex is   a people-centric organization with over 2,000 employees and over 20 commercial and manufacturing sites in all major regions around the world.
source-: www.gebocermex.com.