RAMPF – materials, machinery, and processing for electrical and electronic systems
Productronica 2015: New electro casting resin portfolio from RAMPF Polymer Solutions / New DC-CNC250 and DC-CNC800 dispensing systems from RAMPF Production Systems
Grafenberg, October 22, 2015. From November 10 to 13, the international RAMPF Group will be showcasing brand new products and solutions for the electrical and electronics industry at productronica 2015 in Munich – Hall A3, Stand 241. RAMPF Polymer Solutions is presenting the latest generation of RTI and 1-component casting resins as well as the new electro casting resin product range with high thermal conductivity. RAMPF Production Systems is exhibiting the new DC-CNC250 desktop dispensing cell and the latest generation of the DC-CNC800 low-pressure mixing and dispensing system.
1-component casting resins with long storage stability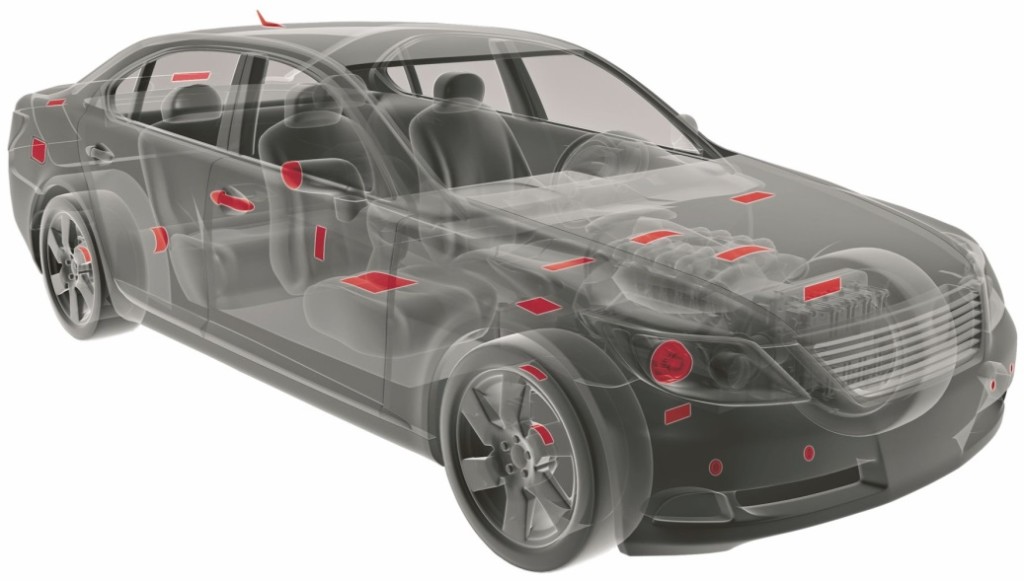 1C electro casting resins from RAMPF are used in many applications also in the automotive industry.
RAMPF Polymer Solutions is a leading developer and manufacturer of reactive resin systems based on polyurethane, epoxy, and silicone. The company is exhibiting a portfolio of 1C electro casting resins that includes products with a storage stability of three months at room temperature, UL 94 flammability safety, and excellent thermal conductivity.
"Compared to conventional products, our 1C portfolio with improved storage stability offers customers more product application flexibility," emphasizes Jean-Michel Pouillaude, Key Technology Manager at RAMPF Polymer Solutions.
1- and 2-component electro casting resins with excellent thermal conductivity
RAMPF Polymer Solutions also has the perfect long-term solution for keeping components at the ideal temperature for their functionality. Thanks to their excellent thermal conductivity, electro casting resins ensure that heat is efficiently conducted away from the component and thermal loads are thus reduced.
The latest electro casting resin, which RAMPF is showcasing at productronica 2015, exhibits a thermal conductivity rating of up to 2.03 W/(m*K).
RTI casting resins with high long-term temperature endurance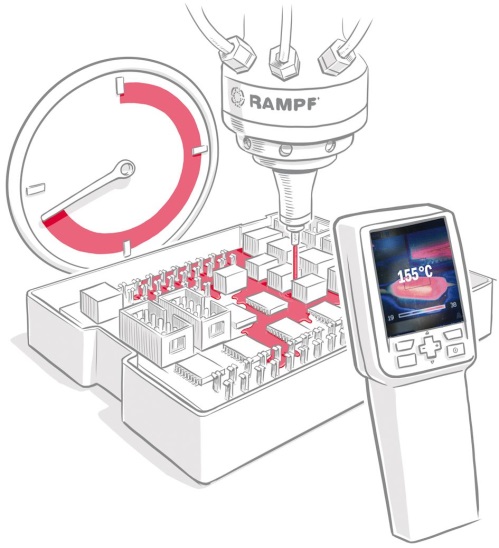 RAMPF has also developed innovative products for extreme conditions. Thanks to their outstanding thermal endurance, RTI electro casting resins retain their mechanical and electrical properties, and thus safeguard the performance of electrical/electronic systems.
The RTI product range from RAMPF includes electro casting resins with especially high thermal resistance up to RTI 155 °C.
"We now have a range of electro casting resin products based on polyurethane, epoxy, and silicone that combine optimum mechanical and chemical properties with excellent thermal conductivity. As a result, we can offer high-performance solutions for a whole range of electronic and electrical applications," says Pouillaude.
The DC-CNC250 from RAMPF Production Systems – high-precision dispensing of paste-like and abrasive media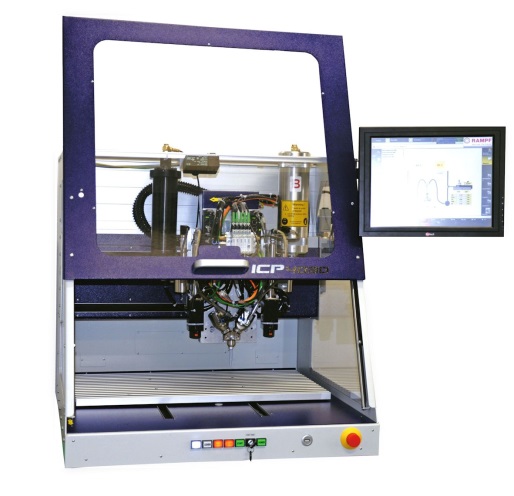 Small and smart – the new DC-CNC250 desktop dispensing cell from RAMPF Production Systems is a cost-effective solution for high-precision dispensing of paste-like and abrasive materials. The user-friendly desktop device has an integrated dispensing system and can be programmed for dispensing individual spots or lengths.
The individual components are dispensed using a piston system designed with an extremely long service life. This results in the highest levels of accuracy and long maintenance intervals. It can process any standard paste, adhesive, or casting material that supports static mixing.
The advantages:
Compact design, but still flexible:
> Desktop device with integrated controls and material supply
> Material supply from cartridges or canisters separate from dispensing cell
> Good accessibility for maintenance work
High precision dispensing of small volumes:
> Processing of 1- and 2-component materials
> Viscosities of approximately 100,000 – 700,000 mPa*s can be processed
> Static mixing system
> Fully adjustable mixing ratio from 100:100 – 100:1
> Dispensing volumes ≥ 5 mg / dispensing spot
> Can process highly abrasive materials
Intelligent controls:
> High-resolution 15″ touch display with embedded PC
> RAMPF process visualization
> User-friendly protection of insertion area with lifting door
There is a wide range of additional fit-out options for the DC-CNC250, including material supply from 310 ml cartridges, 20- to 30-liter barrel presses, and 4-liter pressurized containers and a workbench.
More flexible, more dynamic – the DC-CNC800 from RAMPF Production Systems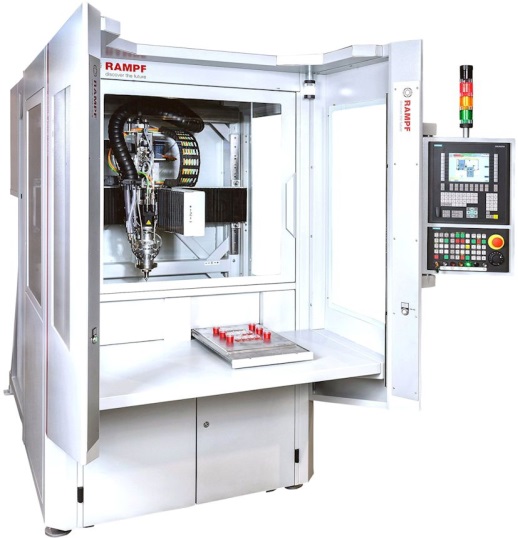 The latest model of this low-pressure mixing and dispensing system is the perfect solution for users who need a compact machine design for the two- and three-dimensional application of casting, sealing, and adhesive systems, but are unwilling to compromise on control technology.
When used in the electronics industry, the system ensures the highest level of process reliability, including when applying highly filled heat dissipation materials to electronic assemblies. The system features an integrated material preparation system and can be fitted with piston or gear pumps to suit customer requirements. Further advantages include the CNC Siemens Sinumerik modular control system and integrated process control for continuous monitoring of pressure, fill level, and speed.
Large tanks enable small containers to be filled in a single step
As an option, the system can be equipped with a high-pressure rinse agent recycling system, high-pressure water rinsing or various items of automation equipment depending on the application in question. Additional features include standardized operating concepts for shuttle table, rotary index plate, and conveyor feed.
The DC-CNC800 is also fitted with large tanks so that small containers can be filled in a single step, homogenization can be carried out on a more material-friendly basis, and degassing can proceed faster. The DC-CNC800 can be fitted with the MS-C mixing system for a dispensing output of 0.1 g/sec and above. Vacuum barrel presses for gap filler can also be integrated and accessibility has been optimized for maintenance work on the piston or gear pumps and controls.
Visit RAMPF at productronica 2015 – Hall A3, Stand 241
_____________________________________________________________________________________________________
Please feel free to contact me for further information.
Mit freundlichen Grüßen
With best regards
Benjamin Schicker
PR-Referent
RAMPF Holding GmbH & Co. KG
Albstrasse 37
D-72661 Grafenberg
T :+49.71 23.93 42-1045
F :+49.71 23.93 42-2045
E: benjamin.schicker@rampf-gruppe.de
www.rampf-gruppe.de