Mechanical and plant engineering and construction for elastomers, silicone and TPE
Winkelmann develops vibration dampers for Jaguar
High levels of automation and valve gate nozzle cold runner technology for high process reliability for vulcanisation
Hybrid rubber-metal composite parts made out of metal and two EPDM components
Ahlen in Westphalia, Germany, 28.10.2015: Some car components really do keep a low profile. You'd only notice how they function if they weren't there. Vibration dampers are a good example, reducing unwanted vibrations produced by engines and drivetrains. Winkelmann Automotive in Ahlen in Westphalia, Germany is a development partner and system specialist when it comes to vibrations and how best to dampen them. High-quality vibration dampers are further enhanced by the use of elastomers. In the case of a decoupled pulley which has recently been developed for Jaguar, two elastomer components help boost vibration damping performance. We found out more by talking to Michael Metzinger, from the development department for elastomer technology (materials, processes and tooling) at Winkelmann.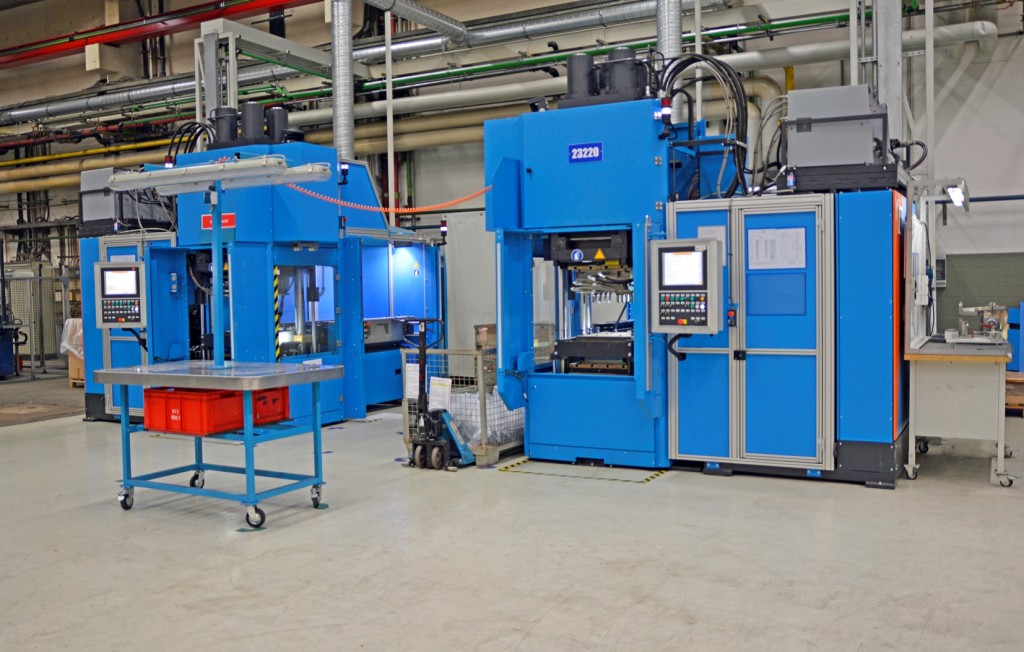 High-quality vibration dampers are not just made of steel but also oils, thermosetting plastics and elastomers with enhancing damping qualities. Winkelmann develops each vibration damper specifically for a vehicle's vibrations. Manufacturing volumes for customer-specific designs range from between 2,000 and 3 million units for construction site, commercial and passenger vehicles.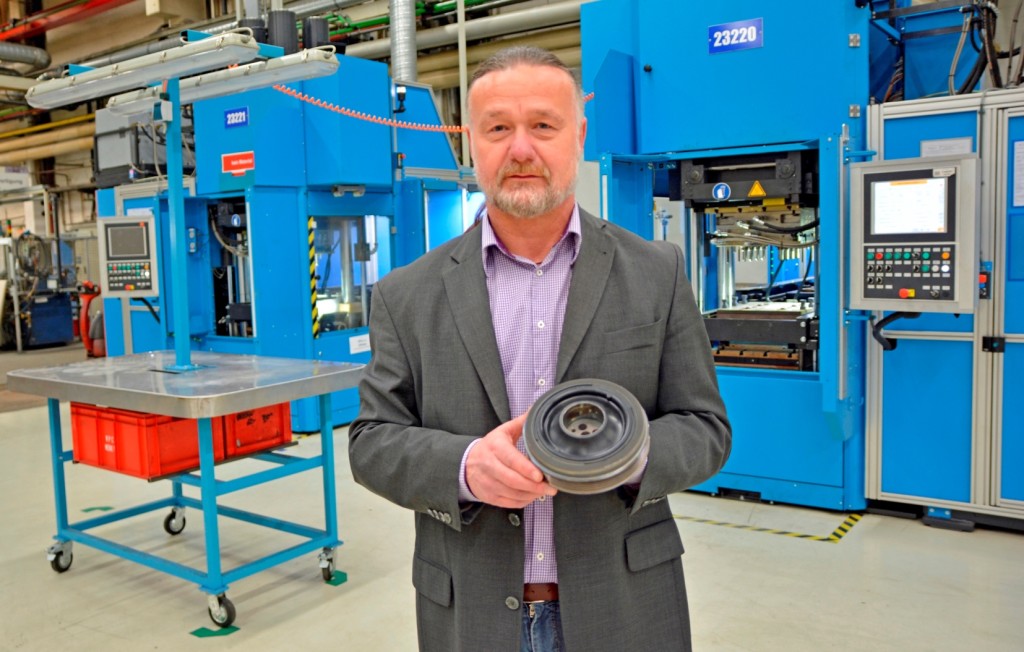 Torsional vibration dampers with integrated decoupled belt pulleys for Jaguar
Winkelmann has developed a vibration damper with two elastomer components for the drivetrain of Jaguar cars. To be technically precise, this component is a torsional vibration damper with an integrated, decoupled belt pulley. This assembly, comprising 10 metal parts, is supplemented with a pressed EPDM rubber ring and a hybrid, bonded EPDM-Metal part. The assembly weighs a total of 2.99 kg. The elastomer components weigh 180 g. Vibration dampers with rubber-metal composite parts mean less limitations on geometries and are suitable for high-frequency and complex vibration loads which have to be dampened both radially and axially.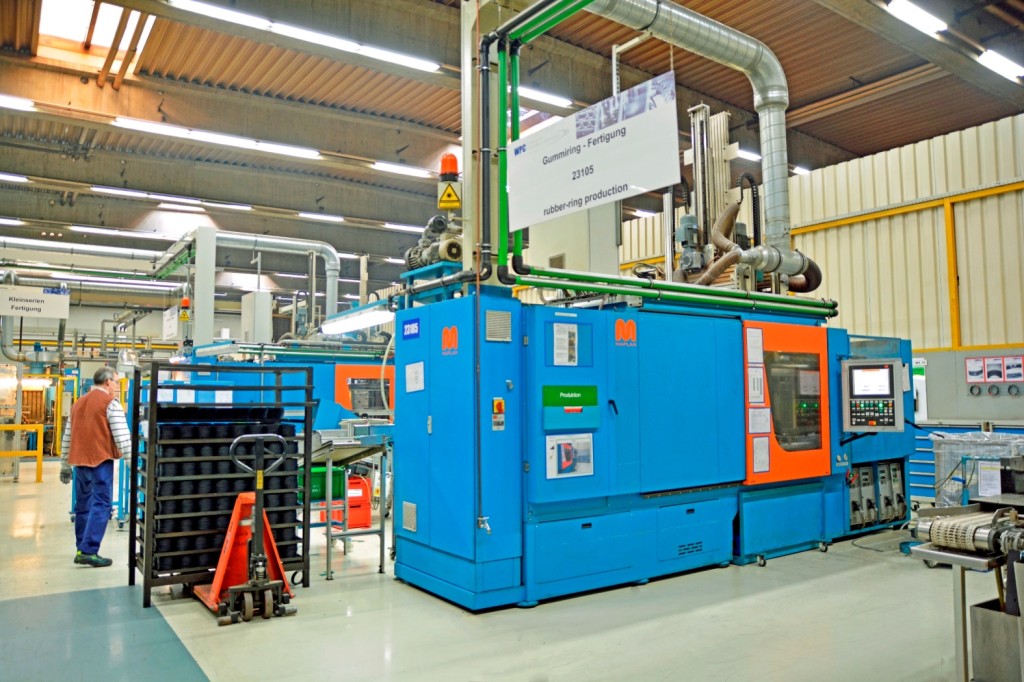 The EPDM rubber ring completes the whole part and is responsible for further positive characteristics of the finished component. Torsional vibration dampers with integrated decoupled belt pulleys are highly effective at absorbing vibrations as well as decoupling low frequencies. Such vibration dampers are tested to approx. 10 million load changes, for both axial and radial acoustic frequency absorption and exposed to temperatures as high as 140 °C. Michael Metzinger: "The vibration damper with an integrated, decoupled belt pulley for Jaguar is a very high-quality component; in manufacturing terms we are talking here of a medium-volume, premium quality part with a maximum capacity of 660,000 units per annum."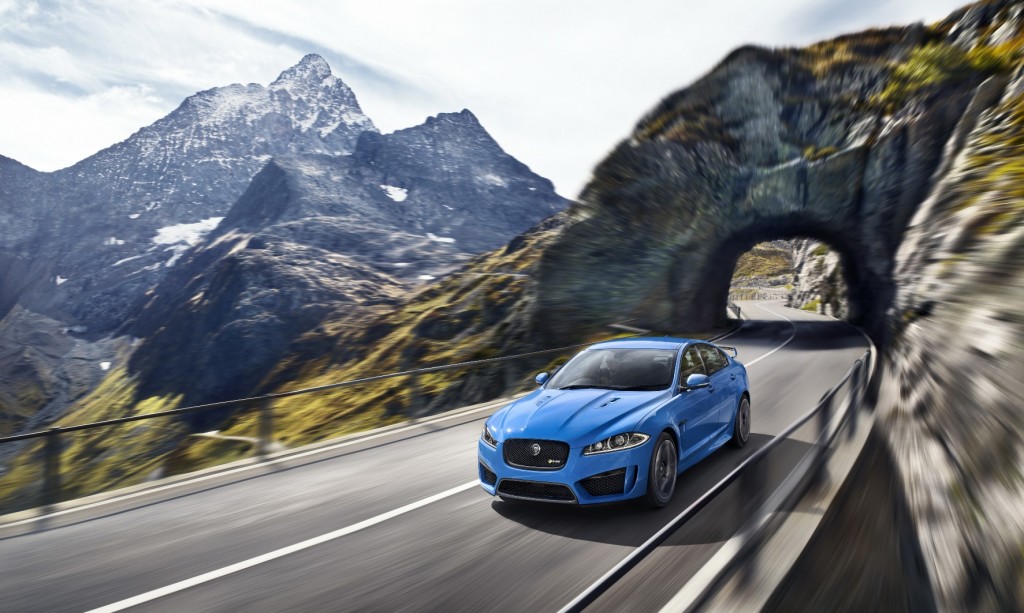 Manufacture of "double-width" EPDM rings
Horizontal machines from Maplan are deployed for rubber ring manufacture. High-precision EPDM rings are vulcanised to very tight tolerances in a fully automatic process on the horizontal MHF 2600/460 machine using multi-cavity moulds by tooling specialist Peta Formenbau. Very precise wall thicknesses are essential to ensure true running pulleys. These wall thicknesses are automated inline and continuously checked offline by means of reference samples. EPDM material combines an excellent performance band-width with reasonable costs. Winkelmann has also focussed on increasing production output. The trick here has been to vulcanise the rings in double width and then radially cut them inline, creating two rings which are then transported to the tempering oven for further treatment. The cutter for this process is from KAMtec. Michael Metzinger: "The automation and double-width rings have proven themselves as an economical and reliable manufacturing solution.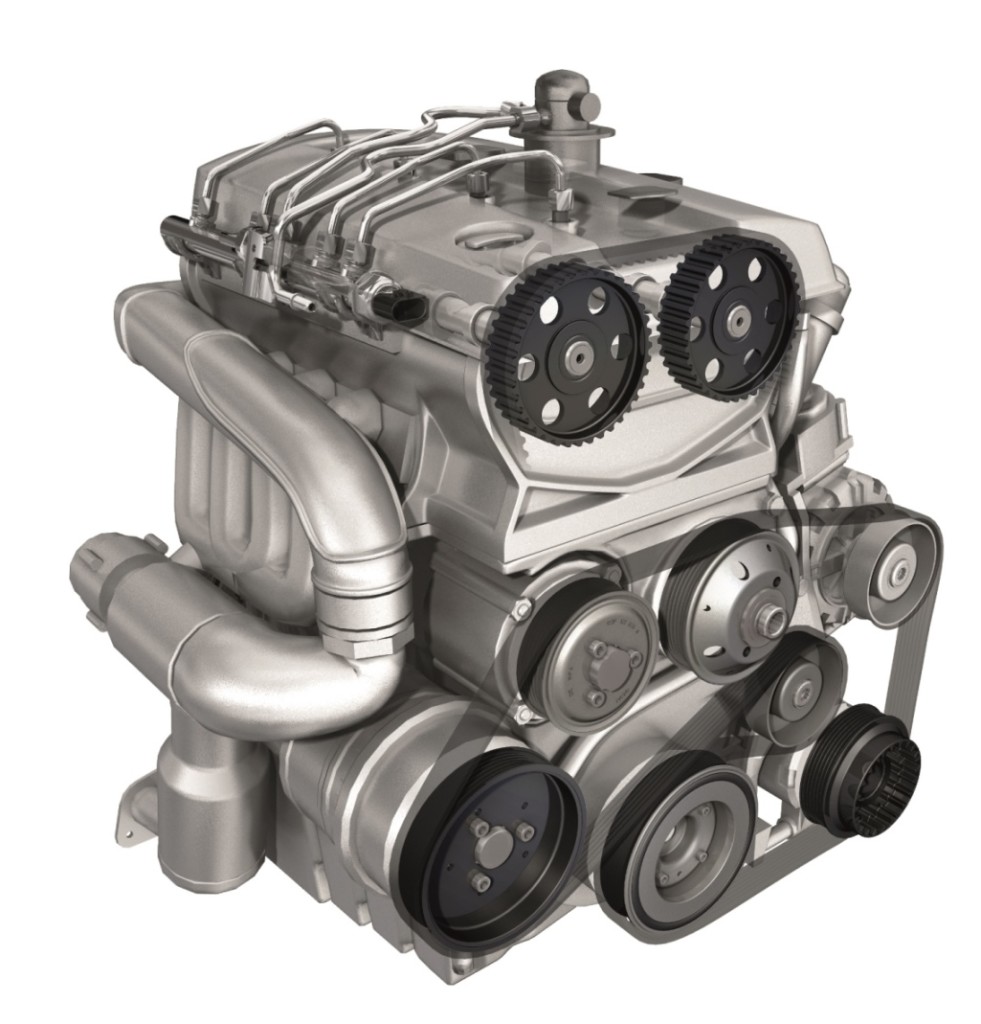 This way we could avoid stack mould technology and thus achieve highest quality with low tooling costs." The horizontal Maplan MHF 2600/460 machines possess full-size heating platens to maintain temperatures of both halves of the mould. The fully insulated heating plates are also insulated on the sides, to direct the maximum heat energy to the moulds and minimise losses. This enables precise heating of the cavities and is also used for the cold runner heating plate. CoolDrive II drive technology is applied for the main drive and parallel drive. The DCI heating technology deployed works with controlled pumps where the heating and cooling requirements are accurately adjusted to meet process needs by means of an integrated control algorithm. Typical massive overshooting when heating and undershooting when cooling, a phenomenon that regularly occurs in practice can therefore be effectively prevented.
Manufacture of rubber-metal composite parts
In addition, rubber-metal composite parts for decoupled belt pulleys are manufactured as bonded vibration dampers. These are produced on a vertical MTF 2600/280 ergonomic machine from Maplan with "Fast Double Shuttle" technology and moulds from Peta Formenbau. Vulcanised bonded vibration dampers mean unrestricted geometries for the elastomer components and are particularly suitable for high and complex frequency vibration loads. Michael Metzinger: "In order to manufacture these hybrid components, the sheet metal parts are coated with a bonding agent before being inserted into the mould which is then injected with elastomer material". The quad-cavity moulds from Peta Formenbau have 8 valve gate nozzle cold runners – four cavities each with two injection points per moulded part. In the final expansion phase of the manufacturing plant, six vertical Maplan elastomer machines are deployed at Winkelmann in Ahlen.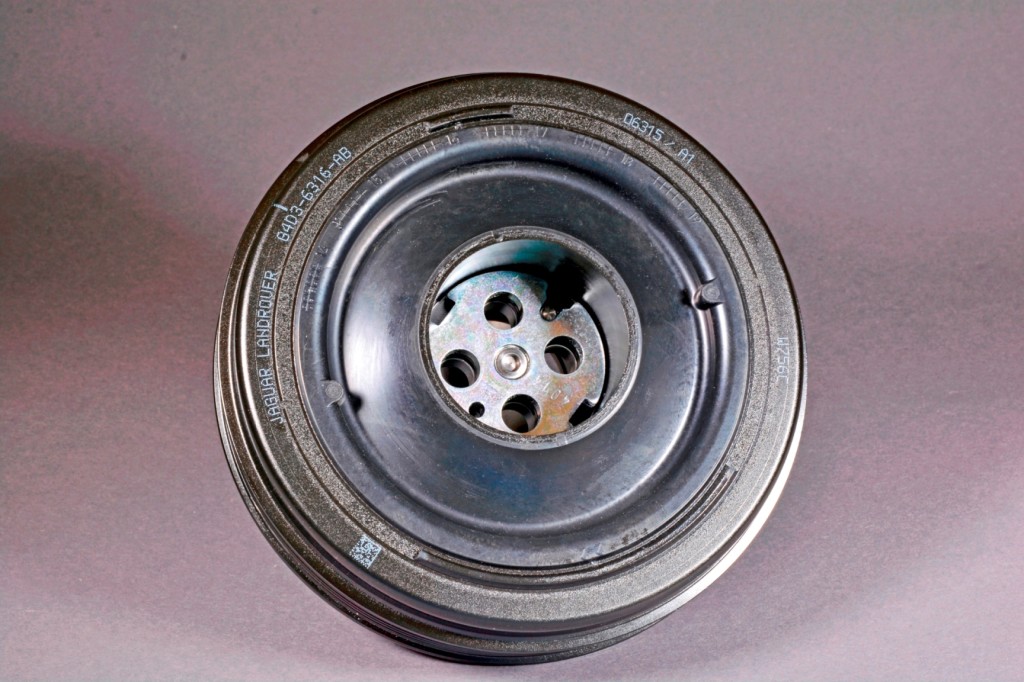 By means of intelligent needs-based control of the flowrate, energy consumption of the DCI heating and cooling units on the Maplan MTF 2600/280 machines has been reduced by up to 80 % while at the same time considerably improving quality control. The CoolDrive servo-hydraulic technology provides additional performance for rapid drying cycle times with even less energy requirements. This is more environmentally friendly and lowers production and unit costs. The servo-hydraulic system, in this case additionally fitted with a parallel drive unit for even faster cycle times reduce energy consumption for the drive by up to 50 % with the same reduction in drying cycle times. Noise emissions have also been halved (-10dB).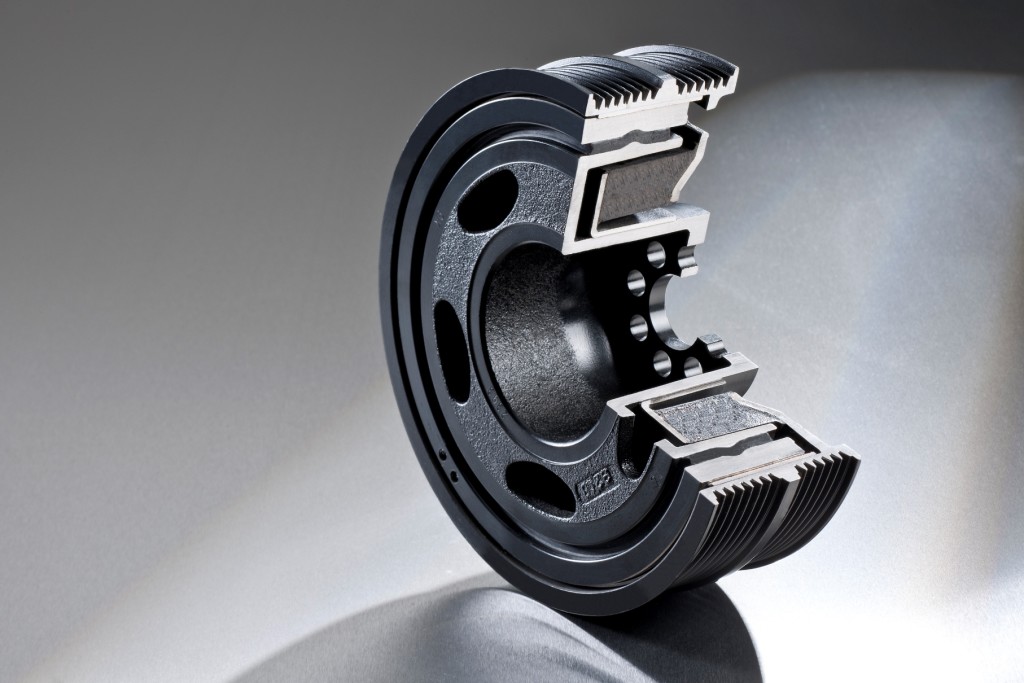 Faster cycles thanks to synchronous shuttle plate shifting with "Fast Double Shuttle"
For the manufacture of rubber-metal hybrid parts with inserts, each production cell is equipped with a "Fast Double Shuttle". The shuttle features twin guides to fit the shuttle plate. The same twin guides can also be found on the knock-out bars on the clamp side hydraulic ejector. A special feature of this solution is that two identical shuttle plates alternate between the machine and the external station. The advantage of the "Fast Double Shuttles" is that both shuttle plates can be moved at the same time, i.e. while plate A is being removed from the machine, plate B can be placed in the machine. This together with a newly developed, extremely fast servo drive concept means a considerable reduction in loading times, compared to conventional shuttle plate shifting. A further interesting feature of the Fast Double Shuttle is a hydraulically actuated ejector including a dock able heating plate. The external heating plate prevents the shuttle plate when outside the machine from cooling down. The finished rubber-metal parts are ejected from the shuttle plate so that they can be easily removed by the operator.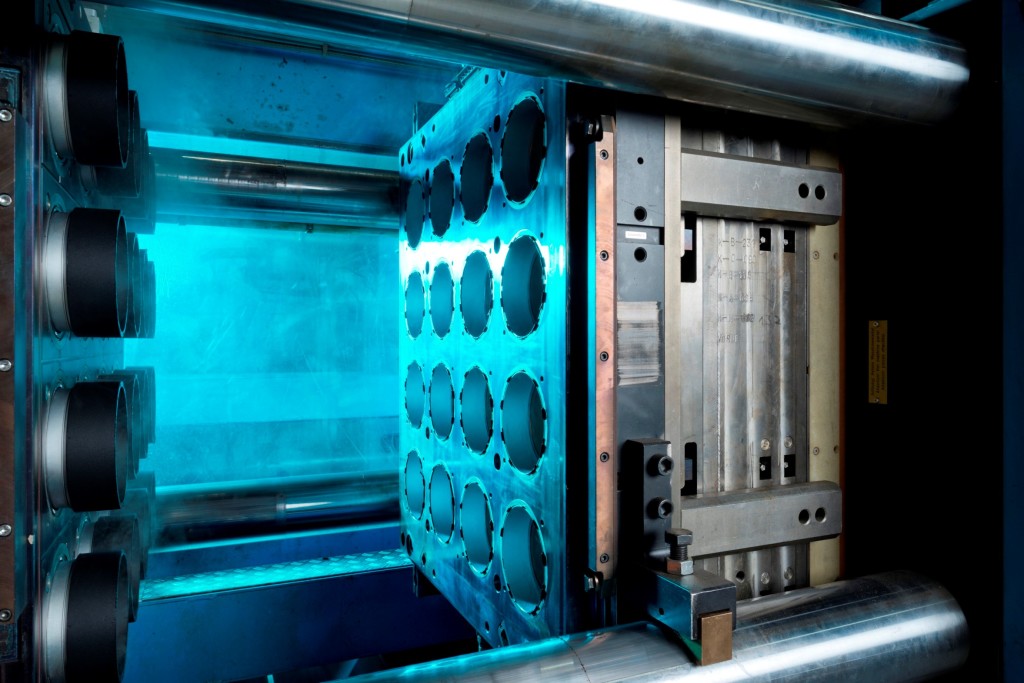 ****************
I- Additional information about valve gate cold runner technology:
An overview of valve gate cold runner technology
Valve gate cold runner technology with highly accurate process control
At Winkelmann, the valve gate nozzle cold runners are high-end cold runners. The electrical and hydraulic actuation of the valve gate nozzle cold runners is conveniently carried out by the Maplan injection moulding machine, along with the other auxiliary equipment. Michael Metzinger: "accurate process control with the use of valve gate technologies is of fundamental importance for the machine. The absolute repeatability of the opening and closing of the needles as well as maintaining pressure in each end position are decisive factors for stress-free manufacturing."
The essence of a cold runner
When manufacturing elastomer parts, the raw material EPDM is injected into the hot cavity, and so starts the full curing process. Michael Metzinger: "by using a cold runner, the uncured EPDM material can be fed right up to the injection point in a cooled state. With a valve gate cold runner system, the injection point in regard to our specific parts are directly at the cavity."
Arguments for valve gate cold runner technology
Where valve gate nozzles are used at Winkelmann, the tip of the needle itself is part of the cavity which gives the parts their shape. The needle tip can be modified for any surface. The result is an almost undetectable, perfect injection point on the produced part. Valve gate cold runners from Peta Formenbau enable individual adjustment of each nozzle. The long needle guide and step less adjustment mechanism of the hydraulically actuated opening and closing stroke ensure high-precision function with low wear. The Peta cold runner system supplied is modular. Different types of nozzles can be configured from standardised sub assemblies quickly and easily.
The layout of the heating channels for the distribution of the heating and cooling medium is close to the material distribution channel and that ensures optimal temperature levels of the cold runners themselves. Additionally, a very good thermal separation between the cold runner heating plate and cold runner itself is essential. Only when this shielding is optimal, can unwanted "cold" temperatures be prevented from influencing the cavity plate and a high level of consistency of the manufactured parts achieved. Peta's modular engineering solutions ensure an optimal balance of all flow paths for material distribution. The rheological optimised and corner less by-pass and distribution elements of the valve gate cold runner system with no dead zones enable smooth material feed which contributes to less cleaning intervals. This means high availability, a significant saving in material costs, with best possible cycle times and consistent, excellent quality of the manufactured parts.
II.Additional interview passage:
What challenges do elastomers in manufacturing and development present?
We spoke to Michael Metzinger, from the development department for elastomer technology (materials, processes and tooling) at Winkelmann Automotive
Editorial staff: What do automotive clients expect from a development partner like Winkelmann?
Michael Metzinger: On the one hand they expect expertise in development, material selection and manufacturing for example when it comes to vibration dampers and how they work. One the other hand a need for understanding and support for their efforts to save weight or reduce CO2 emissions.
Editorial staff: What kinds of challenges does this mean for Winkelmann?
Michael Metzinger: Our clients must be able to depend on our expertise in the areas of development and material selection. We have to be able to answer the question how to prevent or reduce noise caused by engine and drivetrain vibrations. At the same time, manufacturing expertise is important for us since we make these belt pulleys and thus bear the production risks. This means that we strive to find manufacturing solutions that are both economic and feasible process-wise. It's my task to implement all of this in our elastomer manufacturing lines.
Editorial staff: What measures do you apply in manufacturing to achieve this?
Michael Metzinger: Process reliability means that we manufacture dual-width rings for classical EPDM rings, which after vulcanisation are separated fully automatically. In fact, this doubles capacity, without us having to use complex stack mould technologies. You are not always forced to switch to higher numbers of cavities per mould which leads to ever increasing complex mould filling in terms of controls and monitoring. Such a strategy is always worth considering for this level of quality. In addition, we try to tighten the manufacturing tolerances for parts made and reduce heating times. This, of course, is not everything. To achieve optimal process management we use several temperature sensors, depending on tooling design and very precisely control how the mould cavity is filled and how the parts are vulcanised. Accurate analysis by means of flow path simulations or measurement of the thermal equilibrium of moulds and machines also forms part of our activities.
Editorial staff: What significance does machine and mould technology play here?
Michael Metzinger: The combination and fine-tuning of both have a decisive influence on the quality of the manufactured parts and the resulting unit costs. Process reliability and reproducibility together with user-friendly operation are crucial parameters with which we must measure the performance of our manufacturing technology.
Editorial staff: You use valve gate cold runner technology. What advantages to you see here?
Michael Metzinger: We had already started using cold runner technology from Peta Formenbau back in 2009. The answer to your question is actually very simple: the rubber is injected into the hot cavity and this activates the temperature-dependent cross-linking vulcanisation process. By using cold runners, the non-cross-linked EPDM material can be cooled right up to the point of injection and distributed to the mould cavities without damaging the material. A cold runner with a hydraulic valve gate nozzles proved to be the right choice for us. The reason is straightforward: we control all valve gate nozzles with a hydraulic valve. Only the needle gap (needle stroke) has to be mechanically adjusted for optimal performance. This can mean a significant cycle time saving. The needle stroke is set so that the highest possible specific injection pressure of the FIFO injection unit from Maplan can be fully utilised, taking into consideration material limitations, of course. If these adjustments are carried out correctly, the maximum possible heating of the mixture is achieved through friction, immediately before it flows into the actual mould cavity. This high entry temperature means shorter heating times, since the material is already almost at vulcanisation temperature when it enters the cavity.
Editorial staff: How are the elastomer machines adapted to the moulds?
Michael Metzinger: In terms of the torsional vibration damper for Jaguar, we compliment this insertion technology of the hybrid part with a "Fast Double Shuttle" on vertical machines from Maplan for improved part insertion and removal at an ergonomic height for easy handling. The "Fast Double Shuttle" enables synchronous shuttle plate shifting in a fast cycle. Last but not least the DCI heating technology with the CoolDrive II from Maplan has led to energy efficient manufacturing.
Editorial staff: What gave you the idea of this combination of Peta Formenbau and Maplan?
Michael Metzinger: Peta Formenbau has Maplan machines at its technical centre. This meant that a strong partnership between the machine supplier, the mould manufacturer and Winkelmann already existed. In retrospect, this has turned out to be particularly advantageous. For our existing Peta moulds, Maplan also made machines available to us at their technical centre in Ternitz, Austria. The large Maplan modular system on available machines, both on vertical as well as horizontal machines was a great benefit to us. This way, together with Peta Formenbau we were able to specify optimal machines for our requirements with Maplan.
Editorial staff: Are there particular engineering advantages that speak for Maplan?
Michael Metzinger: First of all, you have to remember that you can't expect miracles – all suppliers are limited to the laws of physics. The differences can be found in the details or in the "soft factors" we have just spoken about. These include service and technical support for applications and processes. If we go into more detail we could mention that for dosing, the FIFO principle for Maplan has a special aspect for me: it is a simple construction, very accurate dosing and is therefore process reliable. For our cold runner technology it is ideal. The visualisation of Maplan's PC 5000 touch control system is the icing on the cake. All process parameters are clearly displayed and I can see cycle consistency at a glance. If required, you can get very detailed fault analysis data regarding mixture or batch changes and as a result, stabilise the process. In total, the supplier that wins the order is the one that can best implement our requirements and promises reproducible processes – and can also keep this promise long-term. For us, zero-defect manufacturing in very important. This means less waste and high productivity while at the same time ensuring we meet high quality commitments.
Editorial staff: What were the investment costs for the vibration damper project for Jaguar?
Michael Metzinger: That's difficult to say, since automated manufacturing processes were also modified. I estimate somewhere in the region of between €3m and €4m.
Editorial staff: Many thanks for talking to us.
III.Types of vibration dampers:
Mounted dampers
The standard damper with a pressed elastomer ring. During post-bonding, a chemical bond between the elastomer and metal parts can be created for high dynamic loads.
Vibration dampers with face teething
These vibration dampers enable a compact engine design since the high-precision self-centring face teething transfers the high torque forces that occur to very small surface areas with a positive connection.
Vulcanised dampers
Vulcanised bonded vibration dampers enable free geometries of the elastomers and are suitable for high vibration and complex frequency loads.
Single mass dual mode dampers
Single mass dual mode dampers absorb torsional and flexural vibrations with just one lightweight flywheel.
Belt pulley couplings
Belt pulley couplings/decoupled belt pulleys dampen torsional vibrations which occur at high combustion pressures and low idle rates. Belt running is smoother, resulting in longer belt life and improved acoustic characteristics.
Visco-dampers
The most demanding and wide-ranging requirements can be met by visco-dampers. Visco-dampers dissipate vibrations through sheer effects of the silicon oil in a gap between the seismic mass and the hub.
IV. Winkelmann Powertrain Components: broad range of vibration dampers :
Winkelmann produces vibration dampers designed specifically for each vehicle type and available in a range of performance categories. Concrete requirements are recorded on a detailed specification sheet: do high or low frequencies dominate? Or do multiple frequencies have to be tackled? What kinds of energy should the vibration damper be able to absorb? What loads occur and are they radial or axial? It's only when these questions have been meticulously clarified can the development phase start, followed by building prototypes for the test phase. Here the effects are carefully analysed and where necessary, the design is adapted accordingly until the vibration damper does exactly what it is supposed to do. The diversity is a result of the different types of engines found in vehicles: differences in engine size or whether diesel or petrol engines are used have a profound effect on the type of vibrations and frequencies that are produced.
V. An example of Winkelmann technology: decoupled belt pulleys for automotive applications:
To understand the technological efforts that Winkelmann goes to, you really have to have a good look at their well thought out products. Highlights include vibration damping rotationally symmetrical belt pulleys which are deployed at the drive train or on engines of vehicles. These components work by absorbing energy (removing this energy from the source through their decoupled construction) and work as torsional vibration dampers, designed to eliminated specific frequencies. The role of a belt pulley is to dampen resonance frequencies emanating from the crankshaft. Belt pulleys should dampen resonance frequencies, prevent shaking and – above all – reduce fuel consumption. Fundamentally, belt pulleys are functional acoustic systems.
About Winkelmann:
The Winkelmann Group is one of the leading companies in the metal forming business providing customised solutions for a wide range of industries. The group is divided up into three business areas: automotive, heating + water and flow forming.
With its headquarters in Ahlen, Germany and production facilities in Germany, Poland, Turkey and China, the family owned and managed company for four generations is truly a global player. Today, the Winkelmann Group, established in 1889, consists of 20 independent business entities, with approx. 2,500 employees worldwide. Winkelmann has sales of around EUR 500 m (2014). This turnover is generated as follows by the various business units: automotive (45 %), heating + water (40 %), flow forming (5 %) and steel trading (15 %).
Winkelmann Group GmbH + Co. KG
Heinrich-Winkelmann-Platz 1
59227 Ahlen
Germany

Tel: +49 (0) 23 82 / 856-0
Email: info@winkelmann-group.de
Internet: www.winkelmann-group.de

Peta Formenbau GmbH
Häuserhohle 7
D-63628 Bad Soden-Salmünster
Germany
Tel: +49 (0) 60 56 / 91 44-0
Email: peta@peta-formenbau.de
Internet: www.peta-formenbau.de
KAMtec GmbH

Industriestraße 50
D-26826 Weener
Germany
Tel: +49 (0) 49 51 – 95 590
Email: info@kamtec-gmbh.de
Internet: www.kamtec-gmbh.de

MAPLAN GmbH

Schoellergasse 9
A-2630 Ternitz
Austria
Tel.: +43/2630/357 06-0
Email: office@maplan.at
Internet: www.maplan.at

Press contact:

Marlene Soulier
Marketing
Email: marlene.soulier@maplan.at
CEO: Wolfgang Meyer and Leopold Heidegger
About Maplan
Maplan company was founded as an engineering and plant construction firm in 1970 in southern Vienna under the name of "Machines and Technical Plant, Planning and manufacturing GmbH". The field of "rubber injection moulding technology" has been expanded since the acquisition of Werner & Pfleiderer Rubber Technology in 1993.
MAPLAN covers the different requirements of vulcanisation and injection moulding in elastomer processing using a modular building block principle. All drive elements (CoolDrive II) or control elements (PC5000) with integrated Cure² process optimisation are used for both methods in elastomer technology in order to ensure accuracy, repeatability or availability. High precision FIFO injection units from the "factory shelf" are available for application-specific processing. The orientation and the development of Maplan's machine program consists generally of energy-efficient, process reliable and compact solutions which have added value to the customer.
Our machine range includes basic machine types of horizontal and vertical designs, and also the design which injects from below. The concepts for the clamping unit include both fully hydraulic and hydro mechanical units in column construction as well as C-frame machines. The available clamping forces cover the range from 150 kN to 10,000 kN. Regarding the injection units, our product range includes different designs, mostly based on the FIFO principle with dosing volume ranging from 20 ccm to 26,000 ccm.
The company manufactures over 250 vertical and horizontal elastomer injection moulding machines per year.
All mechanical components of the machines are manufactured in Europe with a correspondingly high level of quality and durability.
Export share is 99 percent. In addition to the production site in Austria, MAPLAN is represented by sales and service offices worldwide in over 60 countries.
MAPLAN currently employs 170 people at its headquarters in Ternitz of Lower Austria (approximately 200 people worldwide) and has an annual turnover of 37 million EUR (2014).