Domestic PP prices in China hit 6-year low
According to data from ChemOrbis Index, domestic homo-PP prices in China have sunk to a six year low, dropping below the $1000/ton threshold for the first time since 2009 on the back of disappointing demand and ample supply stemming from new coal based capacities.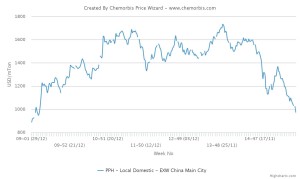 Domestic homo-PP prices on an ex-warehouse China basis have plummeted more than $500/ton compared with the same period of last year and are down nearly $400/ton from their 2015 highs witnessed in May. PP supply remains sufficient in the country owing to the large volumes of new coal based PP capacities while consumption growth has been slower than expected given the ongoing slowdown in China's economy.
Recently released figures from China's National Bureau of Statistics show that GDP growth slowed to 6.9% in the third quarter, marking the first time since the first quarter of 2009 in which China's quarterly growth fell below the 7% threshold. In September, industrial production in China gained 5.7%, missing economists' estimates, which called for growth of 6% in a survey conducted by Bloomberg.
Local PP prices moved down once again over the past week and now trade at a discount to import prices, a situation which last occurred in July, according to ChemOrbis Price Index. Traders commented that weaker domestic prices are likely to put pressure on import sellers to reduce their prices in the coming weeks, although sellers are trying to remain firm on their prices for the present given the recent upward movement in spot propylene costs.
A trader offering Indian raffia to the Chinese market commented, "PP demand remains weaker than PE and we feel that we may need to reduce our prices by around $40-50/ton before we can conclude deals. We are prepared to negotiate with customers who are serious about purchasing." A source from a Russian producer stated, "We are only selling to our contract customers these days as our availability is limited owing to a recent shutdown at our plant. In addition, spot demand for import cargoes is thin owing to competitive prices for domestic materials." A source from a domestic producer added, "Demand remains weak and prices are moving lower. We believe that PP prices will remain on a downward trend for the rest of the month."